Besnard Lakes @ Birmingham Hare & Hounds 30.03.10
Time is a funny thing. Steeped in rock's illustrious past, Montreal stargazers Besnard Lakes nevertheless seek to craft something new by weaving together ingredients from a bygone era with newer sounds – an auspicious creation which transcends generations, both in the studio and on the live stage.
Apr 1st, 2010 at Hare & Hounds, Birmingham / By
Simon Harper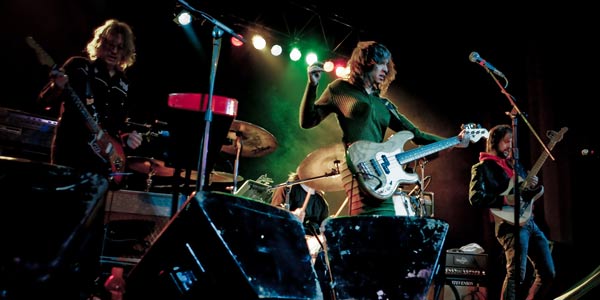 Equally inspired by the warm tingle of nostalgia are their Jagjaguwar labelmates, London quartet
Wolf People
. Taking their cues from blues and folk, Wolf People presented an updated psych-rock concoction, contorted into interesting shapes, resulting in a strange yet beautiful amalgam of new and old.
Whereas fellow prog aficionados Dungen and Diagonal have focused on acid-fried rock and jazz-fuelled organ workouts respectively, Wolf People's earthier grooves proved a scorched delight, with searing guitars and loping bass propelling the likes of 'Caratacus'.
Shorn of the flute parts which underpin their recordings, the four-piece transformed each song into a stomping jam, loosening up and revelling in the freedom of the stage. Newer songs such as 'Castle Keep' and 'Dorney Reach', with its driving rhythms and blues-fuelled fuzz, suggested that there's plenty to look forward to on their forthcoming debut album proper.
When Besnard Lakes took to the stage, it wasn't long before the audience was greeted by a wall of dry ice. From the dense, slow-building squalls of set opener 'Like the Ocean, Like the Innocent' – from new album The Besnard Lakes Are the Roaring Night – there was a hushed sense of awe among the audience, captivated by the Montreal quartet's spacey intensity.
Led by husband and wife duo Jace Lasek and Olga Goreas, they glided through a succession of hazy, shoegaze-inspired atmospheres, including the heavyweight psych-rock of 'Devastation', one of the standouts of their breakthrough outing, The Besnard Lakes Are the Dark Horse. Sultry harmonies in the vein of 1960s girl groups duelled with clanging riffs and no shortage of drone, making for an odd but bewitching combination.
Highlighting their sweeter side, 'For Agent 13' took a completely different approach. After Lacek introduced the song's woozy organ bedrock, it evolved into a melancholy duet between Lacek's falsetto and Goreas' cooed vocal – akin to an eerie amalgamation of post-rock and Phil Spector production, before fuzzed-up guitars lacerated the soft-focus mood and twisted it into something more visceral. And something much, much louder.
One of the more surprising components of the four-piece's live show was how they managed to corral their more overtly classic rock tendencies into a subtle and playful show, their prog inspiration shining through but never falling into bombast. Even the copious deployment of dry ice and the presence of a glitterball were undercut by Lasek's self-deprecating interjections between songs, which added a touch of humour to offset the dramatic sounds.
At times merely silhouettes behind the smoke, Besnard Lakes gradually soared through songs mostly culled from their latest full-length, with sun-and-reverb-kissed single 'Albatross' wearing its MBV influence on its flowing sleeve, and 'Chicago Train' augmented by Goreas' mournful flute melody.
There wasn't much need to look further than 'Disaster' to get an idea of Besnard Lakes' glorious worth – from the shimmering, vaguely narcotic intro through to the snarling guitars and rushing crescendos, all topped off with the kind of lovelorn harmonies that could reduce grown men to tears, this punctuated a deliciously dreamy hour from a band who surely won't be considered dark horses for much longer.