Bellowhead @ Shepherd's Bush Empire, London 20.11.10
Love the mad-eyed drunken abandon of the Pogues but left cold by the recent plague of tasteful, polite and bloodless folkies? Then say hello to your new favourite band…
Nov 20th, 2010 at Shepherd's Bush Empire, London / By
Ben Wood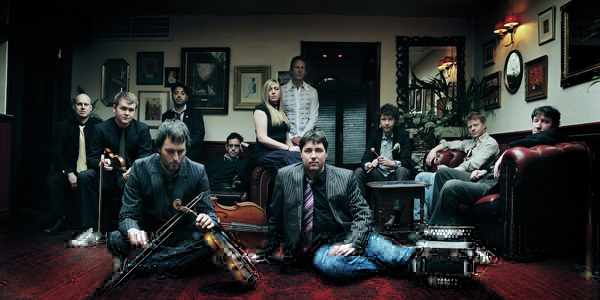 Bellowhead
are already legends in folk and festival circles. Making a rare appearance in their full eleven-piece incarnation (complete with horn section), these critics' darlings played like angels, while plugged into the rowdy, anarchic, rebellious spirit of all the best folk. And the crowd threw themselves around with sweaty abandon – not much chin-stroking going on here.
These tales of revelry and disaster stretch centuries-old ballads into different dimensions, with John Barry-esque orchestration and riotous funk sitting surprisingly comfortably with traditional laments, jigs and reels. But it is singer Jon Boden that sets the band apart from its peers. Hair on end, he looks like he's been wearing his suit for a week and his wild-eyed enthusiasm turns every song into compelling musical theatre.
Recent third album
Hedonism
(produced by the legendary John Leckie) gets a good airing, its solid but not spectacular songs transformed into things of wonder by Boden's charisma, the band's kick-ass skills and the crowd's rabid enthusiasm.
The opener kicks off with a thumping acid house beat and bassline, setting the tone for the whole gig – this is party music, and no mistake. Boden introduces the next one as "Romeo and Juliet but with more filth", reminding us that this is music first played in taverns and brothels. One whiskey-drinking anthem celebrates wild drunkenness – propriety be damned, this is music for the night before the morning after.
An amazing version of the Jacques Brel classic 'Amsterdam' – also covered by Scott Walker – sees the band swinging through an ambitious arrangement that somehow merges seamlessly with Boden's bravura vocal, every line acted out in proper chanson style.
Sea shanties and love songs alike are brought fully alive by impassioned playing and updated arrangements that remain true to the spirit of the song. The band know these tunes so well that they can take liberties with them, knowing that being a folk band isn't archaeology – there's no point singing these songs if you don't put your mark on them.
Really cooking, the band throw everything into the mix, including ska rhythms and an anti-war song ("10 deaths a day") that could be about the Hundred Years War or Afghanistan – these are songs about the universal truths, and nothing really changes too much over the years.
There's a typically cheeky final announcement ("Thanks for coming, you've been fantastic… we're going to finish off with a song about a prostitute"), one more tune and they're gone. But there's no way the crowd will let them off that easily and soon
Bellowhead
are back, with a hymn to the Big Smoke ('London Town')… and another song about a prostitute.
Best live band in the country? They might just be…