Bearded Do Reading Festival - Part 1
It's fair to say that, during the months leading up to Reading Festival, the event was met with a torrent of hostility from music lovers. In the past, one would react enviously to the news that a friend had managed to bank a ticket to the festival, whereas this year such declarations were met with sighs, the rolling of eyes, and downright surprise that anyone would pay £200 for what was considered a meagre line-up, overpriced on-site refreshments and appallingly narrow-minded youth culture. This was supported by the length of ticket availability, with the event selling out just one month before the start date in contrast to previous years, when tickets would sell out five seconds after general sale release.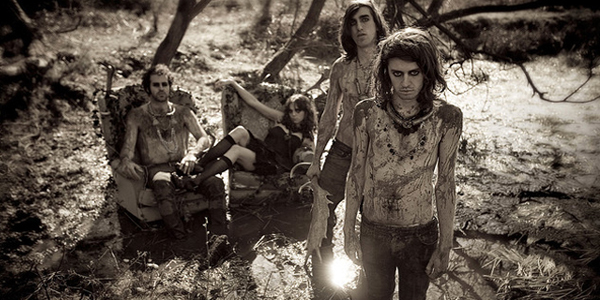 The festival scene has been so intensely over-saturated, with 3-day music events popping up on virtually every field in Britain throughout the year, that the biggest of these events seem to have become the least desirable to the scores of penniless students that make up the majority demographics. To say that Reading is 'past it', however, is verging on ridiculous. Granted, you may not get your next big hipster fix, but the sheer volume of established independent bands, artists and other performers with incredible songs and intense showmanship on this year's line up made it difficult to overlook. Not all the bands were currently 'cool', but what the heck is 'cool'? Is it a product of media manipulation, or a personal recognition of genius artistry? We say the latter.
We started our Friday with upcoming songstress
Brigitte Aphrodite
and thundering metalheads Architects. Aphrodite was a hit-or-miss choice to watch, and sadly we agreed on the latter; she was effectively Kate Nash with excess glitter and lesser songs, sounding too familiar to render her memorable, but guitarist Jay was chic as feck; it would be interesting to see him front his own project.
Architects
were suitably glorious, a fitting Main stage opener. Their high-energy tech-Metal stirred festival-goers into a spirited frenzy, aided by incredible musicianship and genuine positivity.
We then headed to the Alternative tent to see spoken-word mavericks Saul Williams and
Dizraeli
, the latter of whom shone as one of the festival's highlights. Articulate, witty and intelligent, Dizraeli treated us to a fast-paced set covering anti-patriotism and anti-capitalism, with the odd sexual encounter thrown in for good measure. New York poetry demi-god
Saul Williams
was also pretty thrilling; his dark, commanding presence combined with acute, aggressive anti-war references equated to a dangerously captivating performance, and the a cappella version of his biographical track 'Black Stacey' was one hell of a treat.
In light of my glowing
report
of punk rock'n'rollers
The Computers
some months ago, we then ran over to see half of their set. The same review almost applied: the vocalist was a star, the band a little out of place in comparison, and the songs were mighty fine - 'Group Identity' especially shone. On the whole, no changes but still electric. On to baroque-esque dance troupe
Crystal Fighters
, who's early 3pm set seemed a little silly. The tent atmosphere was among the most energetic all weekend, and this energy was essential in making the live experience enjoyable. Half-way through, when we emerged from the sea of moshpits and madmen to take a more relaxed place at the side, the pleasure factor evaporated. It may go without saying that Crystal Fighters are a band to go mental to, but we're saying it.
We ended our indie-label Friday with
Patrick Wolf
, the loveable neo-classical Londoner who's recent album
Lupercalia
is among his best pop offering yet. I've seen Patrick Wolf a number of times, and it is fair to say that he shines the most in more intimate performance areas. This said, it's hard to knock him – he pretty much has it all in just the right amounts: songs, presence, performance, artistry and musicianship. Always a pleasure, Paddy.