Band of Skulls @ Shepherd's Bush Empire, London 28.03.14
Still riding the wave of success following 2012's 'Sweet Sour' which spawned two singles and an opening slot for Muse, Band of Skulls have further refined their sound while retaining their thick, hard-hitting rawness.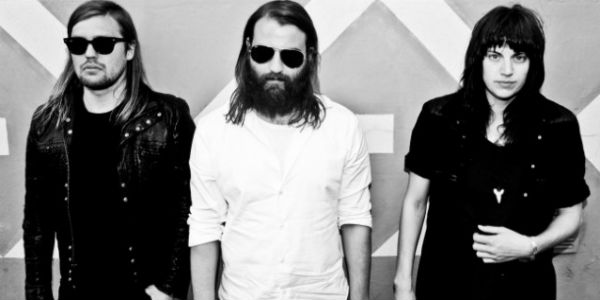 New album
Himalayan
and its lead single 'Asleep at the Wheel', proves this Southampton three-piece are here to stay. 'Asleep at the Wheel' is as infectious as 'Devil Takes Care of His Own', and perpetuates the band's penchant for jarring changes in time signature, barebones vocal harmonies and an enviously ambitious rhythm section.
Lead support at Shepherd's Bush Empire, London, was provided by Leamington Spa's
Coves
– a band perfectly matched with Band of Skulls, in their music and performance style – the set was rich in thick guitars and megaphone-amplified vocals. This tour will be a launch pad for this dynamic duo.
Band of Skulls
are fashionably late on stage, and don't need to work hard to captivate an all-too-eager audience – even their toned-down entrance to the stage, bereft of the usual pomp and splendor, was enough to kick off the show with a bang. Opening with 'Asleep at the Wheel', it's clear BOS' verve and vitality are still entirely intact, and the set that follows is as focused and driven as any seasoned band.
Band of Skulls are one of those bands that brim and pulsate with energy, and yet are reserved and understated on stage – there is nothing self-indulgent about this performance, and even vocalist Russell Marsden's occasional audience interaction is toned down ("We have a new record out on Monday…this is a song from that record…it's about something…").
But drummer Matt Hayward's performance is mesmerizing here – the precision and conviction with which he plays – constantly changing time signature at the drop of a hat – holds this band's performance together, and steals the stage whilst lurking at the back of it.
That's not to say there isn't full-band communication here – it's just that Band of Skulls know their craft so well that perhaps much of the show seemed on autopilot. Improvisation for the audience's benefit was kept brief and tactile, and the show went through its motions with a riveting but slightly unexciting monotone – not that the audience seemed to care; they were too busy loving every second, and the nostalgic 'Baby Darling Doll Face Honey' seemed to bring BOS out of their trance and into full-on rock-n-roll mode.
With chords straight out of Tarantino songbook and a tight, driven performance, Band of Skulls are on the way irrevocably up, and Himalayan will serve to cement this three-piece's place as one of the best young rock bands in the UK today.