Asgeir Trausti @ Shepherd's Bush Empire, London 15.05.13
Icelandic folkie's low-key triumph…
May 15th, 2013 at Shepherd's Bush Empire, London / By
Ben Wood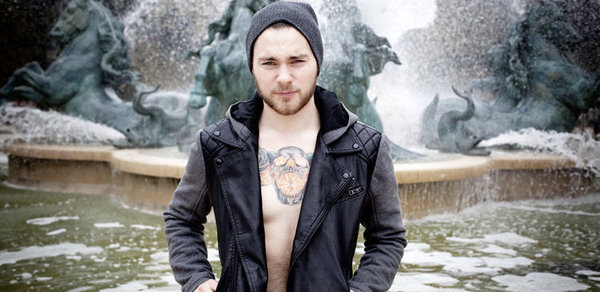 He may have barely left his teens but
Asgeir Trausti
already has friends in high places. Last year his first album
Dyrd i daudathogn
became the fastest-selling album ever released by an Icelandic artist; and won a stack of domestic music industry awards.
While the album's airy, melodic melancholia is easy on the ear, its provenance is an unusual one, with most of the lyrics written by Trausti's 72-year-old father. Emboldened by its success, the singer tracked down former Czars frontman turned cult singer-songwriter
John Grant
, who lives in Iceland, and asked him to collaborate on recording an English-language version of the album. Grant became a fan, and the two are now touring together.
Grant may be the reason most people are here tonight, but there is a healthy Icelandic contingent in the crowd - and Trausti plays to a packed and respectful crowd. Live, he is backed by two sidemen who complement his songs with delicate touches of keys, acoustic guitar and drum machine. This is low-key, late-night, soulful stuff, like Bon Iver or Nick Drake remixed for the chill-out room.
It is music for the wee small hours, with fingerpicked melodies providing a spacious accompaniment for emotive songs of longing and psychic struggle. The lyrics acknowledge loneliness and doubt, but, as Trausti sings, "I still believe in the possibility of love."
He switches from Icelandic to English from song to song, and from acoustic reverie to subtle electro-pop. The housey vibes underpinning the set-closing Leyndarmal prepare the crowd for Grant's newer, more electronic material.
The half-hour set is well received, the music's wintry mood a perfect fit for a time of dismal weather and Tory recession. You may not believe it when David Cameron says we're all in this together - but when Trausti sings, the sentiment rings true.