Arcane Roots @ The Boileroom, Guildford 15.05.13
This should really start how the night started: with the support acts. In Dynamics and The James Cleaver Quintet are two excellent bands; both are unique and exciting, with stage presence and verve – not to mention skill (Beau Boulden's from In Dynamics precise guitar work and vocals were particularly impressive).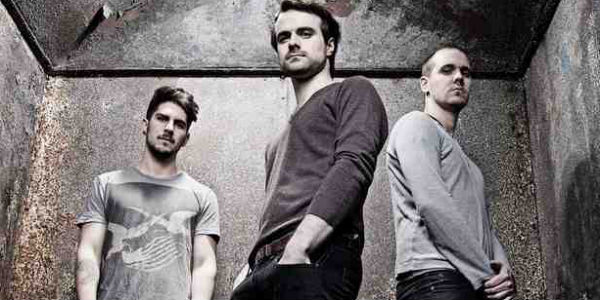 Arcane Roots
have that thing. You know what that thing is; dedicated and talented musicians have it when they jam. Whatever it is, it's organic. Arcane Roots sailed through an angry and audacious set with all the energy of a supernova, and every turbulent twist and turn of the music sometimes floored the audience (who, it has to be said, recovered quickly and swiftly became a ball of energy) at the Boileroom… whereas the band appeared nonchalant; almost smug, on stage and really just having a bit of fun.
Okay; so admittedly, the distorted and diverse bass-work is pretty much disguised as a guitar; on the record, Arcane Roots have those moments where you go 'Surely he can't play that and sing at the same time'; but live, you realise how important a part each instrument plays in this band. For a three-piece the scope is incredible; it's rare to see a small band make a sound so big it rattles the foundations of so many genres.
And the thing that's great about Arcane Roots (there's that word again) is that despite the infamous inaccessibility of these mathy, technical bands making 'music for musicians', Arcane Roots have managed to write an album that is as appealing as mainstream quirky rock like Biffy Clyro, but that is also as technically satisfying as a System of a Down anthem.
Speaking of 'technical', no doubt the highlight of the show (and the album, as a matter of fact) was the dazzling 'Sacred Shapes' – a frenetic tapestry of a song, laden with deep, aggressive riffs that show a flagrant disregard – and great respect for – time signatures, pulling in all the loose ends together to weave a superbly written verse interrupted by a big, glittery chorus.
The band's set was seamless throughout; erupting into 'You Are', the single from their previous LP,
Left Fire
, the band's presence and energy grew throughout the song, from its funk-laced verses and high-concept conclusion.
As it was begun, this should probably end with how the night ended: a few moments of bedlam ensued; loud, sweaty fans coaxing the band on stage for an encore…they didn't get one. Arcane Roots left the stage quietly and gracefully, not to mention fast, after the last resounding tones of 'Resolve' dwindled and we were all left in silence…stunned.
There's no precise way to communicate it; but Arcane Roots have the thing. You know what that thing is.