Arc Iris / Nicole Atkins @ Bush Hall, London, 07.05.14
Bush Hall is one of the capital's loveliest venues, a gem of an old music hall that looks pretty darn spacious tonight. But sod the absentees - everyone who did make the effort saw two classy and joyous American acts.
May 7th, 2014 at Bush Hall, London / By
Ben Wood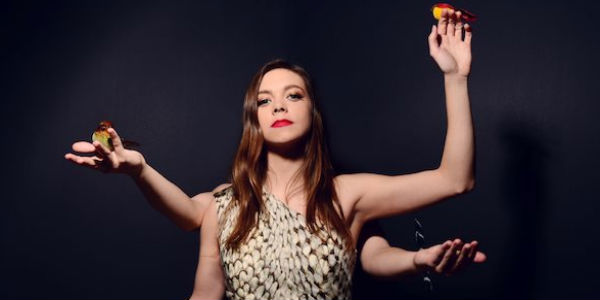 Nicole Atkins
is a soulful, versatile singer with charisma and serious chops. Solo, she can do soft and subtle but tonight, with a shit-hot band, she's in belt-it-out, rock-the-party mode. Resplendent in a floaty, floor-length gown with gold piping and batwing sleeves, she may look like Bat For Lashes' Natasha Khan meets Stevie Nicks, but she sounds like Janis Joplin in crowd-pleasing mood.
Her band looks like an unholy amalgam of the Bad Seeds, Lynyrd Skynyrd and Rufus Wainright's lot, but it gets some major grooves going: 'Girl You Look Amazing' boasts a disco bassline that would have Bootsy Collins nodding in approval. This high-energy approach sees well-structured tunes transformed into a high-energy melange of riffs, vamps and gestures. The sound mix isn't always perfect but it's great fun and the band are clearly having a blast.
Not to be outdone on the stagecraft front,
Arc Iris
step onstage looking like they've spent the afternoon raiding the dressing-up box. Lead singer/songwriter/creative lynchpin Jocie Adams rocks a skintight gold catsuit, while the band's instruments are wound round with plastic creepers. The overall look is
A Midsummer Night's Dream
on a budget and it's very charming. Just 'cos you take your music seriously, doesn't mean you should take
yourself
seriously. Po-faced indie bands, watch and learn...
Adams' troupe have just released their self-titled debut album, an eclectic and ambitious work that marries her occasionally Joanna Newsom-esque vocals to cabaret jazz, folk, classical touches, hell, all sorts of stuff. Imagine Joni Mitchell with a sense of humour and a fondness for the trapeze...
While the album was created by a cast of many, tonight the band is a four-piece, with keyboard maestro Zach Tenorio Miller and cellist Robyn Ryczik helping create a classy, spacious and light-on-its-feet sound. They seem to have an endless number of songs, while familiar material is pulled into interesting new shapes.
It's strangely timeless stuff. You can imagine this lot in some bohemian pre-war cafe, or a party at the end of the world. Clarinets and trumpets make occasional appearances; jazzy drummer Ray Belli provides endless nuances; and whiskey men and Canadian cowboys are praised.
Just when you think you have Arc Iris pidgeonholed as a folky, boho bunch, they play their new stuff and your jaw drops again. "I hope you brought your jetpacks", Jocie warns, as the band launches into several groovily gnarly jazz-rock numbers.
Bitches Brew
in the house!
Bearded
is digging it, but some fans may get a bit scared. They shouldn't - there are some decent tunes in there, but it's a brave new direction. Idealistic, though - as any band with integrity should do, they're merely following their muse wherever it takes them.
Eventually, however, we are back to the safer waters of the debut album. 'Safe' is a relative concept, of course. In 'Powder Train', they pay unabashed tribute to the devil's dandruff, in surely the world's most innocent-sounding cocaine anthem. Very fin de siecle, darling...
An encore sees the band, minus Ray, serenading the remaining few with some exquisite harmony singing. Truly inspiring stuff. This lot deserve to find a much larger audience. One can imagine them going down a storm in an afternoon festival slot. Arc, the herald angels sing, indeed...