Anna Calvi @ HMV Institute, Birmingham 10.02.14
Theatrical, epic, schizophrenic and with solos that cut and screech like a circular saw into her guitar, Anna Calvi brought her impressively ambitious musicianship to Birmingham's HMV Institute.
Feb 10th, 2014 at HMV Institute, Birmingham / By
Ian Stanley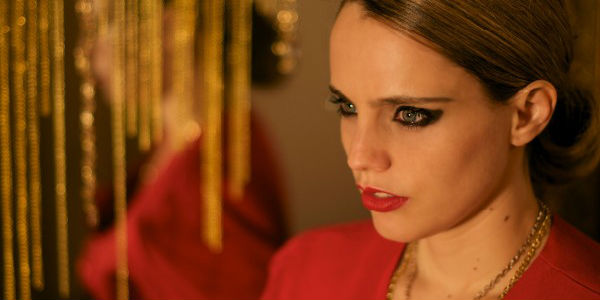 Returning with her second album,
One Breath
, after 2011's Mercury Music nominated debut, Anna Calvi has bulked out her collection of songs. And by still keeping a healthy dose of the cover versions, which show her musicianship and talents for interpretation, her live set jagged about between the silky, operatic tones in her voice and the industrial cut of her guitar.
For support, I am pretty happy with any music that makes me feel I'm listening underwater - or that a whale call or the impending doom of an exploding star is moments away. And that, plus a little bit of Chvrches, is pretty much what
Woman's Hour
brought.
Then it was
Anna Calvi's
turn. Everything and everyone on stage was dressed in black apart from the red of Calvi's lips and jacket and the blonde of her curls. We're set. There was light. There was sound. There was music. And then a tech fault that makes all of the important stuff stop working.
Calvi's hand went up to signal halt and start the sound again. Breaking in from the chorus of 'Suzanne & I' the band avoided the nonsense of starting from the beginning.
The collection of songs which followed provided a vast amount of range. Calvi's voice made everything feel theatrical and epic, the cover of Elvis Presley's 'Surrender' was about half a shuffled Travolta dance move away from a Tarantino film, the soft tones battered schizophrenically with crunching guitar provided powerful heft to the set and when the solo hit in 'Cry' Calvi produced a screech both savage and industrial from her guitar.
That solo was like a circular saw cutting angularly into her guitar. When she hunched over her instrument and strong-armed it to make those noises the result was both brutal and raw.
There were one or two moments when her enthusiasm to pull extra pitch from her guitar produced a wooden note, but this was largely overwhelmed by the ambition and quality of her work. There were also moments when, in trying to sing a lower note her voice became too breathy. It sounded too odd when there was maybe no need for Calvi to go that low.
While 'Sing To Me' and 'Piece By Piece' brought down the pace. It was Calvi's cover of Springsteen's 'Fire' sang alone on the stage that produced the most intimate moment of the night, and ended with a refrain of screaming "FIRE!!!!" triumphantly – check this out if you get a chance.
She finished her set in ostentatious fashion with head up in the air pulling the circular saw, swells and feedback from her guitar to crescendo on 'Love Won't Be Leaving'. If the previous songs throughout the gig were the epic adventure then a return to stage for the final song of the encore, 'Jezebel', was the apocalyptic ending.
It's Calvi's ability to provide variety and surprise during her live show which makes it such a satisfying experience. Theatrical, epic, schizophrenic and with solos that cut and screech, this would be worth seeing just for the contrasting colours in the music – they're as easy to distinguish as the hot red of her lips, jacket and lighting from the rest of her band. But it's also excellent to see her ability to own a cover, the growing maturity of her song writing and the ambitious musicianship that gives an extra punch to her songs when live.