Allusondrugs / Fizzy Blood @ The Herdsman, Hereford 05.06.14
Leeds' psych guitar slingers on the way up on excellent form
Jun 5th, 2014 at The Herdsman, Hereford / By
Jack Sibley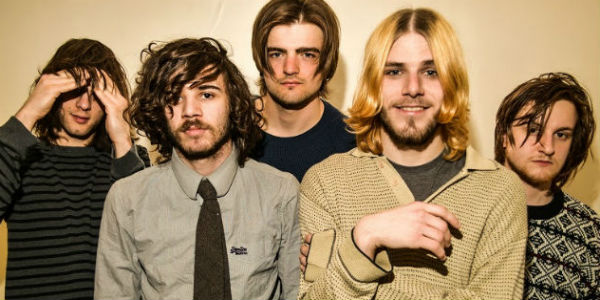 The Herdsman, like Hereford itself, can't lay claim to being a very happening little place. However, again like the city at large, when something deserves support like this does, it's always a welcome surprise to see the community of artists and fans scuttle out and show off their ability to swarm.
Before the touring acts though, we were to see some more local endeavours.
Skinhorse
were a slightly confusing little three-piece. The confusion came from the third member of the band who controlled a sort of digital Tourette's (only really audible between songs) whilst hidden behind an amp. Anyway, let's pretend that didn't happen because, apart from that, this was an incredible duo. There's nothing like seeing a solid rhythm section beat the living shit out of their kit and that's exactly what Skinhorse were there to provide. Just bass and drums; hair and fury; extraordinarily structured pieces chaotically dunked in molten excrement. Yes, slimmed down to a duo, Skinhorse should be able to conquer any UK punk/metal venue with ease.
Next up were
Fairview
and then
Chew
, the first from Bristol and purveying sweet pop tunes glazed with distortion, the second from Hereford and doing much the same but further glazed. Both signified a drop in energy from the first act and seemed to rely on local fans for generating audience excitement. Both had well-crafted songs but as Fairview slipped into the even more stoned Chew, momentum was at a dangerous low.
Fizzy Blood
had little issue with switching the flow though and bounced onto the stage like space-hoppers with an attention deficit. Tighter than Farage's fist, the drummer stares out at the other band members as he pumps his arms like hydraulic clockwork. You can tell these boys have spent a lot of time just thrashing in the basement. Their songs sometimes lack originality (their allegiance to Queens of the Stone Age is a strong talking point and perhaps a step too far) but each one is beautifully contoured, consolidated into a single heavy unit and then pulled off with an enviable, grinning panache. Rhythm is carefully varied and always has a spiky interest or a driving persistence and the multiple vocals add a whole lot of power to the overall sound. On top of all this, they seemed to have a great time. The lead singer dubbed Hereford 'the home of rock and roll' before smashing out their final song (the new single 'January Sun') to a crowd drunk on the energy.
A quick switchover and
Allusondrugs
picked straight up, cutting a rather different mould. Physically, these lads quickly earnt their pay, throwing themselves into each other and the audience with pure ragdoll abandon. They thrashed hi-end, distorted psychedelia closer to the traditional Leodesian vein than Fizzy Blood. The band never let up with their movement but on occasion the lead singer would stand gurning amongst the chaos seemingly trying to find his feet and regain some semblance of composure before rejoining the fray. Throughout the set, the electricity continued to grow. You might not have thought it possible to crowd-surf on twenty people but Hereford proved otherwise, lifting the lead singer onto a shaky throne before dropping him back down to his knees where the guitarists rushed to the scene and ejaculated riff into his face. All this whilst Fizzy Blood built and consequently toppled a human pyramid and excellent frenticness beamed over us, otherworldly in such an environment.
An environment so sparsely populated as to afford only a handful of attendees per gig and yet so enthusiastically appreciative. Yes, Hereford needs gigs like this. Having seen Pulled Apart By Horses in Cardiff only a week or so before, the difference between their audience of listeners and Hereford's unfathomable bubble of anarchy is monstrous. However, not wishing to seem desperate, we will stay classy, watch bands of national note progress to the bigger cities and remain confident that, should acts of this quality find themselves lost between Cardiff and Brum again, we can help them rip it up.