Akron/Family @ Clwb Ifor Bach, Cardiff 24.07.13
Portland, OR experimental folk-rockers live in Cardiff
Jul 24th, 2013 at Clwb Ifor Bach, Cardiff / By
Andy Price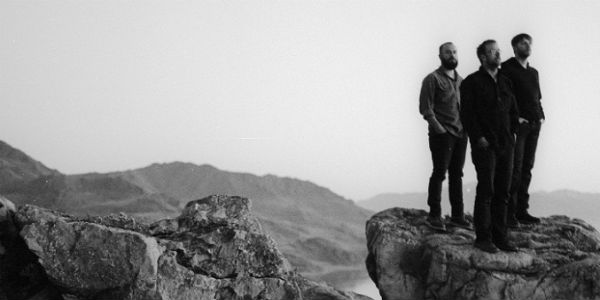 Montreal, February 2011. Akron/Family
S/T II: The Cosmic Birth and Journey of Shinju TNT
, the band's fifth album, had been released that week. But the band seemed already bored of the record. It was a strange show, the trio were just doing a few dates and were yet to start the full album support tour. All three had their own side table on stage, filled with knobs, pedals, loopers; everything.
After playing a couple of tracks, and a couple of intros to other tracks, they would descend into jams, the jams would then further spiral into directionless cacophonies where the three would put down instruments, hunch over those tables, and, well, fuck around for a bit. No, not a bit. A lot. Was it a bad show? It wasn't.
The way they drift in and out of their various indulgences is still an intriguing watch and you will forever wait the familiar riff, or sound that signals a recognisable
Akron/Family
track. They always top and tail their sets with great songs too, like drummer Dana Janssen's rendition of Set 'Em Wild Set 'Em Free's 'Sun Will Shine' that ended, and was the highlight, of that one.
It's now nearly two and a half years later, and their sixth record,
Sub Verses
has similarly just dropped. Akron/Family are one of those bands that usually appear to play out their songwriting on stage to varying degrees of success. Unlike other bands, they're far less constrained by 'the classics', a benefit of constant and consistent regeneration from early folk routes through to drone psychedelia. However, their Cardiff show in support of the latest record
Sub Verses
is perhaps the most surprisingly coherent they've been in a long while. The notable difference is that they actually appear to still enjoy the record, picking it up early on with the insistently pounding 'No-Room', the album opener, filled with mantra and more considered harmonies than we've seen from them in a long while.
Most notable, however, is that despite delivering a far from straight-forward guitar record, still holding on to more than just a eminence of electronica, they've never felt more like a rock band. Their hippie tendencies have receded somewhat, though beard wearing remains the fashion, and the trio were tonight far more interested in playing a bunch of songs as were committed to disc/tape/the digital ether as a band than exploring any form of on-stage creativity/jam/hoe-down. The new record's 'Sand Talk' provided a great example of the band's full on 'as-a-unit' approach to their music that has previously seen them become far too tempted to disengage from their own material in favour of exploration.
A recent addition to the Akron/Family live show is a keyboard player – and it's perhaps one of their smartest moves. Why? Because he didn't do much at all. The subtlety of the keys comes through on
Sub Verses
' 'Until the Morning', allowing the band to concentrate more on its most underrated ability – their singing voices, at best when the three of them come together in their slower numbers. 2011's
The Cosmic Birth and Journey of Shinju TNT
would often forget about the presence of a vocal line at all, but on the latest record it returns to the fore. Particularly on form is bassist Miles Seaton, who, while the band has never strictly had a frontman, has taken up the role somewhat in front of the previously de-facto spearhead Seth Olinsky who, eyes closed, concentrates on every note, every key change with pure absorption.
Seaton would take up the role of communicating with the crowd, though how comfortable he is with this position is questionable. "Play something old!" an audience member jestingly called out towards the end of the show. Seaton: "You're old".
The avoidance of old material is clearly something Akron/Family are plainly aware of - but no less frustrated by as the years go on. With six albums now behind them, a request for old material could be seen as an entirely fair shout. But while Miles follows up with "we are a band called YouTube" there was a definite air of "we're playing actual songs this time, what more do you want?"
Slight animosity aside, there is no doubt that on this warm night in Cardiff we were presented with a rejuvenated Akron/Family - an Akron/Family with new songs, and a new enthusiasm, which they clearly wanted to share.