Agnes Obel @ St Pancras Old Church, London 04.09.13
In a medieval church, slightly off the beaten path – hidden behind the grand St Pancras station – Agnes Obel and her two accompanists humbly take to the stage, to a small but eager audience for a special invite-only secret show.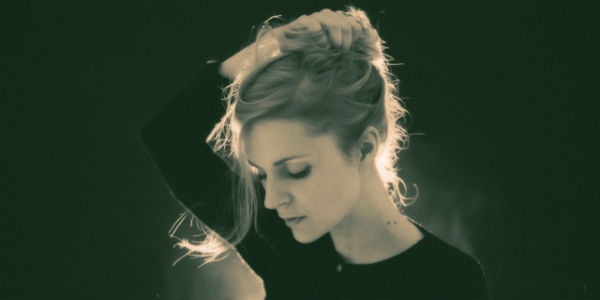 The setting is perfect. With subtle, sallow back-lighting and flickering candles dotted around the eerie church,
Agnes Obel
looks almost ghostly dressed head to toe in white, with long, flowing white blonde hair. The trio comprises of cello, violin and Obel on grand piano; they launch straight into an epic and haunting piece, akin to a Tim Burton movie score. The dark, wintery quality of the music leaves the hushed audience fixated, silent and hooked. The piano flows and descends, falling like snow, whilst the strings glisten, weaving around each other expertly.
Obel, saying few words, begins 'Beast', a single from debut album
Philharmonics
– an uplifting and playful Joanna Newsom-esque song with pizzicato strings and three-part harmonies, showing a light-hearted side to Obel, yet somehow the trio never fail to deliver a shadowy edge to every song. Obel's warm and husky voice flatters 'Fuel to the Fire' (a new track from the much anticipated forthcoming album,
Aventine
) whilst the strings swell beneath the piano, exaggerating the low end beautifully. The result is huge. Orchestral and almost classical in parts yet always modern and accessible, every element of every song is carefully written, intricate and lingering.
A highlight of the set, Obel and her troops air new track 'Dorian', a song catchy enough to be a huge radio hit yet still so incredibly understated, satisfyingly sparse and pretty. The pizzicato cello serves as bass, whilst the broken piano chords ring throughout the church as the clock chimes 9 o'clock. You might think this would be the downside of hosting a gig in a church, but somehow it is extremely fitting – a strange and special moment.
Agnes Obel charmingly explains that she wrote 'Wallflower', the instrumental taken from
Philharmonics
, at high school in Denmark on a piano in the canteen, covered in graffiti and surrounded by cigarette butts. A complex and attention-grabbing piece, the string section employs loop pedals to create layers of percussive sounds, whilst the piano takes on the role of ornamental instrument, skilfully experimenting with odd scales and progressions. Relentlessly dark, never breaking character, Obel dedicates the song that follows to "all the dead people beneath us", a sentiment that summed up the theme of the whole evening, really. Obel notably takes influence from musicians ranging from Joni Mitchell to composer Claude Debussy, which makes for a unique artist, full of character as well as a stunning live performance. She clearly takes pleasure in the darker side, and executes this mood in her live performance with extreme grace, vocals that are simultaneously pure and wise, and a level of musicianship that is hard to come by. Still under the radar in the UK, this captivating Danish singer-songwriter is surely set to shine a spotlight on modern European folk music.