A Tribe Called Red @ Bears and Bungalows, Sheffield 05.12.13
Polaris Prize nominees A Tribe Called Red produced their best when pounding out unique tribal drums and hollers, but drifted into generic dance clichés at times. However, whichever style they play, you cannot help but dance.
Dec 5th, 2013 at Bears and Bungalows, Sheffield / By
Ian Stanley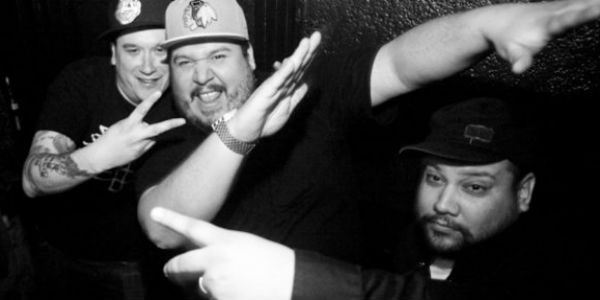 By ripping out parts from their latest album,
Nation II Nation
, A Tribe Called Red showed how their latest effort is DJ food to a live set which referenced garage, reggae and techno beats. The best parts of their set relied heavily on the tribal chants and drums that make the album unique. But with adding the punch that areas of the album begs for, produced a live set that made sense of the album and had hips, feet and arms waving.
Support came from
The Ruby Kid
. As their set progressed it was obvious what and who their influences are: reggae, trip hop, hip hop and the beatniks – good use of scratchy Allen Ginsberg sample included. Their turn of phrase and seamless wordsmanship during interactions with a growing and increasingly curious crowd showed that they are a bit well-read and love a turn of phrase – ever heard a hip-hop reggae band use the phrase 'Polymers! Yeah! Up quarks! Yeah!'? Nope. Well, until that night neither had I. Worth keeping an eye on.
Then it was time for the Canadian headliners to make their entrance. The first ten minutes of
A Tribe Called Red
felt sluggish and lacking anything unique. Then the tribal beats and chants that make their album instantly recognisable introduced themselves as abruptly as a kick to the shin. The repeated samples throughout the first half of the record kept the set structured and solid; they bobbed in and out of the set towing the line. The album became a hollowed shell for A Tribe Called Red to add to or take from as they pleased.
It was a reference-heavy set which demonstrated not only the musical talents of DJ NDN, Bear Witness and DJ Shub, but their musical knowledge. There was UK garage, hip hop, techno and reggae. And in memory of Nelson Mandela – it was announced that he had passed away a few hours before the start of their set – A Tribe Called Red dedicated a mix including the line "I'm not afraid to die."
For Bears and Bungalows to dance with the confidence of someone who knows what they're doing, or has had enough drinks to think they do, the set had enough consistency and predictability in its drops and sustains. Just one hour later, everything came to a close when a final roaring guttural tribal chant and pounding drum sounded out with a lot more a cappella power than on the album.
It was a ringing finish to a set that got progressively better as the layers built up, the references laid down thick and
Nation II Nation
was torn up to good effect and to improve on the record.
In a live context the album and A Tribe Called Red fused together tightly. The album became a base of samples to tow the live set and this made the ideas on
Nation II Nation
make one helluvalotamoresense. With the addition of synths, samples of reggae, furious techno, sirens, horns, garage, grinding and dragging bass this live performance added something that some of their recordings lack: a powerful musical uppercut. And that's a drop that you can't help but dance to.