360 Club @ The Library, Leeds 11.11.11
Walking up the stairs of The Library pub in anything but a state of solemn remembrance, Bearded were greeted by a beaming Rich Watson (top man at 360 club), ready to eagerly build anticipation for tonight's line-up amongst the crowd. But the sight of an empty stage with the jittering 360 logo projected onto the back wall was enough to prophesise a good night anyway and there was just time to pour a few cheap pints of lager before it all kicked off.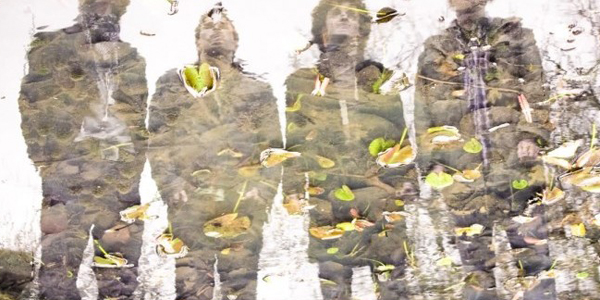 First up were
Broken Sunsets
with some music to make us happy. With a strong Queen's-English lead vocal juxtaposed alongside pleasingly de-twanged guitars, this is towing the line on just the right side of indie pop. With solid, catchy songs, their arrangements had clearly been thought through. Setting aside boring single-note basslines and high-end frenetic chords, everyone was walking about their instruments in contrapuntal joy. Sprinklings of wit came through and the frontman was ready with some good deadpan lines in between songs. Showing confidence and enthusiasm, Broken Sunsets were a solid base for the evening.
Next were
Phonetics
, playing a dark style like the trailing shadow of the previous band. A similar sort of mature indie but with far more angst and not a smile in sight. A pounding on-beat bass drum and greasily distorted guitars combined to make a hollow-eyed indie character, dancing to forget. Their frontman had energy and showed a serious affection to the music. Simply structured songs talked of heartbreak and the usual tales of teenage woe and it sometimes felt like they needed the vibrant performance that was given in order to back them up. Audience feedback seemed to be strong for this band and they've definitely tapped into something people like. A tight band who conjure up the atmosphere that you expect from a good quality indie gig.
Taking their place and returning to a cheery vibe were
Eskimo Sandwich
, adorned with colourful tees and surfer hair. Playing intricate, enjoyable pop songs and singing some impressive harmonies for four young lads, they were tight and together in a way that suggests a good combination of hard work and history. The highlight of the set was a beautiful moment when all amps were muted and the band came down off the stage to play an acoustic number (accompanied by aforementioned harmonies) with the crowd huddled in a ring as if round a beach campfire. They then returned for a final song as mobile but stagebound creatures, feeding the well of anticipation created by the experience we had just shared. Eskimo Sandwich are good eggs.
Finally - ready to blow the night away - were
Sub Serene
. Having played together as Empire Safari for just over a year, these guys know each other and have even carried over a few of the songs (including a tasty cover of 'Teardrop'). As a result they delivered a well thought-out set that was full of detailed soundscapes and swelling texture. Described by the lead singer as 'stoner-indie', they waved through trance-like, ostentatious mindclouds that were only occasionally derivative. The black-and-white indie projections that were thrown onto the back wall were a nice touch, felt like they moved with the music successfully and didn't distract from the performance area. This was a well strung together set from a band who clearly are quite serious about what they do and also a great end to another rewarding 360 club.