Wolf Alice @ Oxford Academy 2, Oxford 13.05.14
Fast rising North London quartet play to rapturous Oxford Academy 2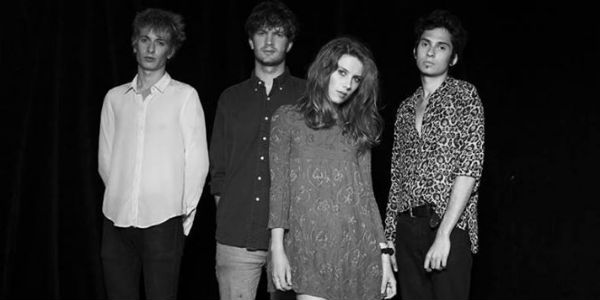 Wolf Alice has only the one EP to their name, 2013's 'Blush' (Chess Club Records), although the soon to be unleashed EP 'Creature Songs' (May 26th Dirty Hit) is why they find themselves in a dark room on the Cowley Road on a Tuesday night. The limited size of
Wolf Alice's
back catalogue is what makes the response to their Oxford show all the more exciting as their growing fanbase tested the structural integrity of the Academy 2 room.
With that preface in mind, there's a worthwhile point to make regarding the powerful role that EPs can play in a band's trajectory, a career-path particularly prevalent at
Wolf Alice's
current label,
Dirty Hit
. Labelmates The 1975 released four EP's before their debut LP came out, helping to build a groundswell that took their album to number one in the UK charts.
Wolf Alice
has just the one, but the response to so many of their songs - even unreleased tracks like 'Your Love's Whore' - are so emphatically received it reflects the level of affection that is developing toward this band.
Opening the show with the lead single from the forthcoming EP, 'Moaning Lisa Smile' deftly shows many of the powers that this band possess. There's an unmistakable grunge-ness to their ferocious guitar and bass lines, but flourished with indie-pop vocals from singer Elllie Rowsell, often matched with drummer Joel Amey. Wolf Alice are by no means gazing backwards at any particular time or trend, even if Joel's nifty bowling shirt suggest an early 90's aesthetic, looking as he did like a friend of Jesus from
The Big Lebowski
.
'She Knows' from the
Blush
EP is a gloriously frantic and dark beast, inspiring a barrage of flying limbs before 'Your Lovers Whore' shows a more widescreen and atmospheric sound. The drums really boss this song, snapping and snarling in all the right ways. 'Blush' shows off a slower and more melancholy side to the band as Rowsell laments: "Curse the things that made me sad for so long." Sandwiched in between such energy and ferocity it was tough for some over-excited audience members to rein back their energy for a few minutes. While the audience tried to passive-aggressively make clear their displeasure by just staring at the couple of crazies, guitarist Joff Odie acted as a wet blanket to the nutcases, by throwing a... wet blanket. Well, a sweat-soaked towel, but we'll have to make do. 'Bros' closed out the main set, gazing lovingly at a best-friendship involving bad self-given haircuts and jumping on the 43, all encased in jangly guitars. The encore delivered another slice of grunge-pop as Rowsell wonders: "What's there to do, in this dead-old town" on 'Fluffy'.
Well, Oxford may have hundreds of years of history to explore, but on this night many of us saw the future.