So Sexual – Transient Scenes (Bleeding Gold Records)
Impressive debut EP by Liverpudlian post-punk quartet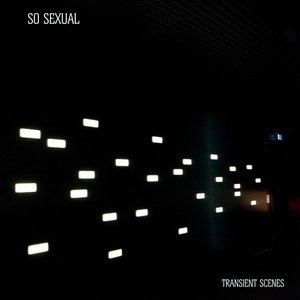 Romping home in the best new band name of the year stakes,
Transient Scenes
the debut EP by Liverpudlian quartet
So Sexual
is immersed in the compelling gloom of post-punk.
The line up of synth, bass, live drums and occasional guitar interjections creates an expansive sound that evokes the chill wind of the late 70s/early 80s Cold War, mercifully avoiding the now done-to-death spiky guitar sound of Gang of Four.
Honing in on a sound equally inspired by early era Human League (
Reproduction
,
Travelogue
) and the brittle narratives of
Seventeen Seconds
era The Cure, the pin-sharp, high clarity production has the tunes to match and the pop sensibilities to boot.
Released through boutique San Diego label Bleeding Gold Records, the lavishly presented double 7" set commences with the propulsive 'Dear Sweetheart', the emotional wail of the vocals centred around a simple synth riff.
The mixture of elegiac and metronomic reaches its peak on second track 'Slow', (check out the video
here
) a hindsight-heavy lyric anchored by a bassline vaguely similar to The Killers' murder case mini-novella 'Jenny Was a Friend of Mine', that seeps into the memory deliciously.
'A Place Unknown' boasts the heaviest Cure influence of the set, the rumbling drum passages harking back to the gothic doyens 1982 LP
Pornography
.
'People Talk' last, closes proceedings with the darkest track of the collection, evinced by the lyric '
losing control of the things we do/Are you willing to go where this path leads to?
'
Underpinned by a chorus-pedal drenched bass riff backed with a simple descending distorted guitar riff the track builds impressively before heading into a lengthy fade-out.
A compelling mixture of downbeat atmospheres, elliptical lyrics and expansive instrumentation,
Transient Scenes
despite the title referring to something fleeting clearly proves So Sexual have staying power.