The Cambodian Space Project - Whisky Cambodia (Metal Postcard Records)
Third album of winning cosmic pan-global psychedelia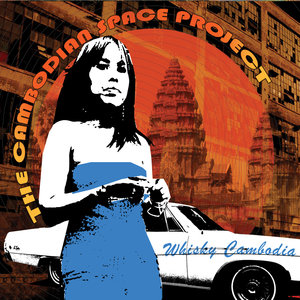 The Cambodian Space Project
is a band that, like their name, has a hell of a lot going on. A collection of musicians by way of Australia, Cambodia, France and the U.S. who actually sound like they have been beamed in from outer-space, the band has a fascinating back-story to match their enigmatic sound.
Australian musician Julien Poulson wandered into a karaoke bar in Cambodia's capital city, Phnom Penh, after hearing Peggy Lee's 'Johnny Guitar' being sung. There he'd find Srey Thy, a local singer who he invited to start The Cambodian Space Project. Now onto their third album,
Whisky Cambodia
, the group's growing stature has allowed Srey to become a women's rights campaigner, after enduring a particularly hazardous childhood herself where she spent some time living in a tank, and was kidnapped as a teenager.
What we get with
Whisky Cambodia
is a whole solar system of fun. Motown legends provide much of the music behind the record. Artists such as Dennis Coffey on guitar, a man partly responsible for the likes of Edwin Starr's 'War' and The Temptation's 'Cloud Nine', is always going to bring mountains of soul, funk, and even shades of surf rock to the spaceship. On 'When You Are Free', he descends into a couple of particularly ferocious guitar solos that Hendrix's ghost would be happy with. Srey Thy spends the majority of the record singing in her native Khmer language, and in a native Khmer style, aping the golden age of Cambodian psychedelia pre-Khmer Rouge. Being unable to understand the lyrics moves the focus away from the meaning of them, instead pushing people towards savouring the melodies instead.
Throughout the record, The Cambodian Space Project show flashes of different genres that they've absorbed into their sound. Opener 'Dance Twist' bursts forth with vintage sixties rock vibes. 'Mountain Dance' comes grooving straight out of dancehall, while 'If You Go I Go Too' is a straight-up pop ballad. A hugely talented cast of musicians come together beautifully to show this band are more than their interesting history or wacky band name.
The Cambodian Space Project Links