Scott Krokoff: Realizations & Declarations, Vol. 2 (Self-Released)
Imaginative new set of Americana from lawyer turned singer songwriter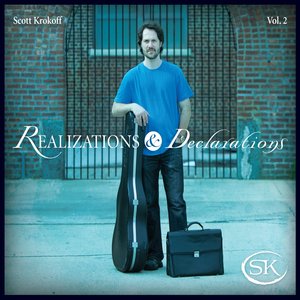 Scott Krokoff
's album
Realizations & Declarations, Volume #2
is one of those records that remind me of driving around with my parents. Not necessarily in that overtly nostalgic sense, but in the way that revealed to my fledgling conscience that these two people actually liked a type of music. They turned up songs about life and songs about love. Songs that if you weren't careful, you could relate too. Scott Krokoff writes
those songs too
.
In quite a few places throughout
Realizations & Declarations, Vol #2
my thoughts drifted back that bouncy, emotionally evocative energy always present on a Joni Mitchell record. I remember turning up "Carey" and forgetting that there is a sombre, resigned undercurrent underlying the whole song. There is some semblance of that in Krokoff's "Pissed Off In Paris" which starts off ideally but goes quickly downhill. There is a fine line that both of these particular artists mine and understand deeply, one that acknowledges the folly of their experiences but the wisdom to dance blissfully in spite of the consequence.
Krokoff is a practicing attorney, but apparently not one better left on the bottom of the ocean, as the old joke goes. He has an enduring imagination, his songs, like "Walter Mitty" where he envisions his forlorn lovelife as a flight of literary fancy, exhibits terrific imaginative powers.