Riz MC - MICroscope (Confirm/Ignore)
Riz MC aka Riz Ahmed, maybe better known to some for his acting, but he's put together an intense album in Microscope, mixing up a concoction of hip-hop, grime and dubstep-influenced sonic-ness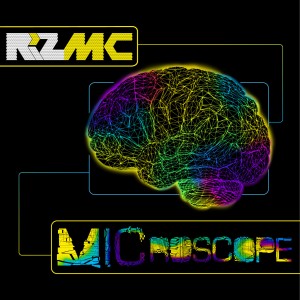 We start proceedings with 'Radar' and straight away, the production stirs up visions of an entire army coming over the hill; a perfect way to introduce the rapper. There's a feeling that an invasion is about to take place and there's no getting away from the underlying anger of the Confirm/Ignore artist who can't stop categorising people. If you doubted his intent, he spits, "…so edgy, so flash, like a popstar chilling with gangsters in posh frock or with a supermodel wearing fat gold chains and them cool kicks, plus if it's a viral hit, every box ticked, built with the radar, talk it, ahh who's this?...".
'Get On' It is a more laid back affair, but the message behind the track is quite simple; stop slacking and get on it! The clever use of the vocal sample adds another dimension to a track full of life and positive vibes. The chorus is hard not to join in with too and it's easily a potential single.
'All Of You' follows a similar intro to 'Radar' but this subject matter is difficult to find so brilliantly delivered. It could provide the soundtrack to a scene in a film or an epic video could also do the track justice. The female vocal really allows this track to take off; its pounding bass with prickly heat sound effects provides a glimpse into when it all comes together for Riz.
'Hundreds And Thousands' deserves praise because from a production perspective, it's probably the best track here and the artist just about gets away with the vocal effects used to make it work.
Unfortunately, it's not all thumbs up. 'People Like People' sounds like it could have been quite an effective skit but as a full track, it doesn't really fit here. 'All In The Ghetto' has similar problems and the production isn't as strong as elsewhere on the album. 'Dark Hearts' summarises what doesn't really work with some of the tracks on
Microscope
. There's a rush of information which doesn't enable the listener to really take in what's being said and there's a series of sub choruses which all seem to merge into one and it's never really clear which, if any, is the main one.
The production is handled by only two producers, Lazersonic and Redinho spread over ten tracks which means that the two futristic styles seem to overlap at some points which can be taxing on the ears. Some MCs don't need a wave of features to make a successful album but there's a severe lack of other artists contributing to this vocally; even one or two main features would make a huge difference, allowing Riz MC to focus on rapping and letting the features do the singing. It's not that he can't sing, but bringing in singers will enable tracks to revolve more around him.
'Sour Times', the album's final track, brings Riz MC together with a string section which showcases his ability with spoken word in pointing out the wrongs with the world. The delicate but chilling nature at which each rhyme is delivered enables you to see just how strongly he feels. The lack of any adlibs shows a vulnerable side to him, yet a confidence that says he doesn't need any additional vocals to help him put his points across.
Overall, there are definitely things to work on but as a foundation,
Microscope
shows that there are enough bricks here to carry on building.