Pigs Pigs Pigs Pigs Pigs Pigs Pigs - Feed the Rats (Rocket Recordings)
As loud as the band's name is porcine, the Newcastle quintet unleash their exhilarating debut LP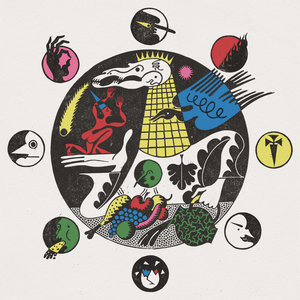 This review should come with a health warning: reader's discretion is advised.
Feed the Rats
is intense, confrontational and blisteringly, unremittingly loud. It is as loud as the band's name is porcine. The sort of loud that might break the 'volume down' control on your listening device. Clocking in at nearly 40 minutes, it is comprised of three tracks, each somehow louder than the other two. You get the idea.
It is the debut album from a Newcastle five-piece who have been releasing tasters of their music for nearly five years. Their very first show was supporting Swedish freak-rockers Goat, a baptism of fire that would send some running. On record, their sound is best described as lying between the drone metal of Sunn O))) and the sludgy, hard rock of Black Sabbath, with a little of the desert rock of Kyuss thrown in to amplify things.
Opener 'Psychopomp' – all fifteen minutes of it – is a thunderous barrage of thick, exhilarating, blues metal. It has observed the psych rock that is trending all over the internet and taken it to its logical conclusion, trading in its slavish adherence to song structure and melody for huge, deep grooves and cascading, monster riffs. It will scratch the eternal itch of the hardcore types who travel from town to town each summer as they follow the psych festival circuit as much as it will for metal purists who accept nothing but the most extreme forms of guitar music.
If it all sounds a bit much, then 'Sweet Relief' could be your way in. It is a puny five minutes in length, very much an amuse bouche for those who just want to dip a toe into the madness. That said, it's faster than its two bigger siblings, and features a Lemmy-worthy lead vocal that would make the cat's hair stand on end. 'Icon' rounds things off, the longest and most ferocious of the three. '
I confess
' is the recurring mantra of the voice from on high, as if even he can't take the intensity any longer.
If you've made it this far without being put off, you will love this album. For the uninitiated, please take care.