Hills - Frid (Rocket Recordings)
Swedish space rock collective on dazzling form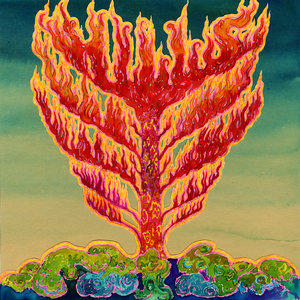 Signed to Rocket Recordings, home to many of the finest psychedelic noise makers out there at present, Gothenburg collective
Hills
alongside labelmates and fellow countrymen Goat have become a sizable cult proposition.
The band's jaw-dropping set at Liverpool International Festival of Psychedelia in 2013 saw the group gather new converts for their nuanced, slow-burning tracks, the default setting vistas of repeated guitar motifs plaited with elements drawn from world music.
As the pulsatant cover art of previous LP 2013 opus
Master Sleeps
made immediately apparent, the group operate in the realm of music as mind expansion, with
Frid
(which translates as peace) an impressive addition to the band's catalogue.
The wonderfully titled National Drone, a service which surely needs to be established providing psychedelia free at the point of use, emphasises some of the band's classicist roots, with an opening stretch that calls the doyens of 1970s Krautrock to mind before the introduction of a blazing African desert blues guitar solo.
Scene-setting opener Kollectiv meanwhile showcases the band's superlative sticksman, clearly in thrall to the jazz inflected drumming that underpinned late 1960s titans such as Cream and Hendrix, that draws to a close in a vapour trail of sitar.
The buzzsaw acoustic guitar foundation of Anukthal Is Here with its fluid lead playing edges the band in folk territory, the subtle gear shift two-thirds of the way through evoking The Brian Jonestown Massacre's most transcendent tracks.
The slow grind of Milarepa is a slight misfire, the slightly too atonal backing backing saved somewhat by the spiralling flute line that weaves its way throughout the cut.
Reaching its pinnacle on Och Solen Sänkte Sig Röd (And the Sun Was Red), the beautifully supine cut combines snatches of English vocals and liquid wah-wah pedal over ten languid minutes.
Based around a backwards phasing guitar figure, ominous-sounding closer Death Will Find A Way meanwhile, sung entirely in English is conversely one of the lightest tracks here, restfully bringing the voyage back down to earth.