Ben McElroy - Bird-Stone (White Lab Recs)
Nottingham based folk artist issues impressive Nick Drake inspired LP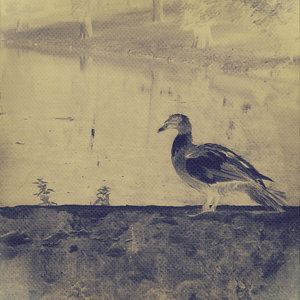 A three and a half minute long plume of strings, bows and mind-bending choral vortexes welcome us into the musical mind of mellow maverick Mr. McElroy. On the enticing opener of
Bird-Stone
, he contends that 'Surely There Are Worse Things'. After having pressed play first thing on a bright morning on a day off, why yes, there are indeed worse things that happen at this time... *cue tedious
Airplane!
"…and don't call me Shirley" joke*. Having come under various performer aliases and playing within a modicum of folk bands within the last decade, there's something about this solo outing that suggests a more personal, introspective feel is present. Earthy and organic, it is made to breathe freely in the fresh air, where the birds can be themselves.
Considering the low quantity of tracks on
Bird-Stone
(there are five), it leaves us with the rare pleasure of covering all of them in this piece. 'That Was The Day' also works as a cracking soundtrack to a sunrise affair – a needed break from the string-led majority, where the light synth chords gently float under an eventual lattice of violin motifs and pleasing bird-based monologue from the mouth of the man himself. Who needs Bill Oddie any more?
Vocals of the melodic singing variety occur only once, on 'Bernie's Army', and a wonderful example of that it is. Complete with a drone of cello after dropping it an octave and half the speed, it allows the vocal harmonies to flourish in their Hebridean folk sounding charm. If we're going to the land of tedious nit-pickers here, the intonation of some notes are slightly out. However, a criticism like that is a mere stain on a shirt that adds to the character of the person wearing such garment. The sound of raw passion should never be compromised by constant correctness.
'The Brightness Surrounds' has instances of Nick Drake-alike guitar work and intertwining majestic fiddle, intrinsic to McElroy's patchwork of sound. At times, we are even left to appreciate the sound of nothing as the already slow paced arrangements take a controlled halt to allow new parts to gradually weave their way in. Ambience prevails throughout this forty-minute record; the last track of which clocks in at just less than thirteen minutes. The excellent title of said tune goes hand in hand with the lengthy theme too. 'He Said Life Is A Question But Don't Let Them Hassle You For An Answer' is a haunting opus for sure, and mainly sits on the fence between neither major nor minor key, leaving the ear palette more open. Not only that, it is also a heavily string bowed journey going confidently at its own pace, summing up the quintessence of the album as a whole. Don't hassle him for a drop, of course.