Alnilam - Indigo Sky (Self-Released)
Astronomy inspired LA group issue cosmically influenced LP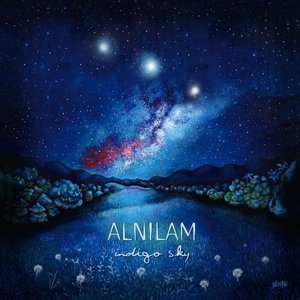 Some records, through the Gaussian blur of gorgeous production and a delightful setting, through devices like cosmic beauty, serene alignments, feel like the sum of their staggering parts. If these remarks sound as though they're specifically aimed, you would be right. While
Indigo Sky
by
Alnilam
might be all of those things, it is ultimately all those things in lieu of something specific.
Alnilam refers (for those astronomically uninformed such as myself) to a star some thirteen hundred light years away from where you stand now, and the earth-based band who took their name certainly fixes their gaze star ward. A gorgeous blend of acoustic guitars, chilling strings and ethereal production,
Indigo Sky
has a concept base that should be familiar to any fans of new age music, or astral folk, songs with soft hearted lyrical incantations. I often found myself lost in wonder while listening to the album, pondering matters of physics and love but about halfway through, my thoughts had become too diffuse to name or relate.
Alnilam describes the nail and spins an awestruck tale about the earthbound might of the hammer but those two elements never quite meet in satisfying form. The elements are there, you can hear them and you can feel each one, which detracts from losing yourself completely.