Preview: 2000 Trees Festival
For the last few years, 5,000 fans of heavy, indie, garage, and acoustic rock have descended on Upcote Farm in Cheltenham for 2000 Trees festival.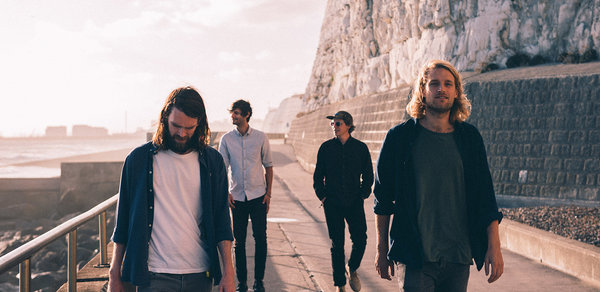 It was launched in 2007, and was based around value for money. The organisers were sick of paying over-the-odds for a subpar experience, so launched the festival at bargain prices. Now, 7 years later, and you'll still only be paying £75 for a weekend ticket (Friday and Saturday), and if you want early Thursday entry, then it's an extra £15. For a three day festival, you'll struggle to find better value.
It's part of the reason it won the Grass Roots Festival Award at the UK Festival Awards in 2010, and why acts like Frank Turner return every couple of years, while it also plays host to an impressive number of bands on the way up, and at the top of the circuit. Along the years, they've seen Pulled Apart By Horses, Three Trapped Tigers, And So I Watch You From Afar and a younger Wild Beasts, even – which should give you a good impression of both the range of the bands they book, but also the type of genres we're dealing with.
In 2014, despite 2000 Trees counting Frightened Rabbit as a headliner, the rest of the festival is built almost entirely out of independent artists, from
Blood Red Shoes
to
The Bronx
. But despite a slight tendency towards the heavier punk and garage rock end of the musical spectrum, they've also thrown in some dance/hip hop in the form of 2000 Trees favourites
Dan Le Sac vs. Scroobius Pip
and the musical crockpot that is
Public Service Broadcasting
.
However, it's the cross-genred melting pot of smaller acts further down the bill that really makes the festival something special.
As with every year, the festival has an early opening on Thursday for those with VIP entry tickets. While most of the larger bands will be reserved for the main Friday and Saturday festival days (it finishes Saturday night - which works well for those that need to be in work on Monday), this means there is a great selection of smaller gems to get you started.
For example,
Oxygen Thief
. Oxygen Thief is Barry Dolan, or rather was. Dolan has been playing under the Oxygen Thief moniker for a number of years, and has played 2000 Trees a bunch of times - playing his entirely unique brand of riff-tastic heavy acoustic rock on the smaller stages. However, Dolan's gone through something of a change in the last twelve months, picking up two more band members and releasing a mini-album on
Xtra-Mile Recordings
.
Elsewhere we see the heaviness continue with
The Computers
– Exeter's finest throwback rock 'n' roll but with a bite you've heard nowhere else. Recent singles such as 'Mr Saturday Night' has seen them step back from the screamo-tendencies and into more danceable territory. But if the former remains more to your taste you've still got the likes of
Turbowolf
and
St. Pierre Snake Invasion
, both from nearby Bristol. St. Pierre has most recently made waves with 2013's EP
Everyone's Entitled to My Opinion
last year, which included crowd pleaser, and expertly named 'Hey Kids! Do the Choke Stroke', while Turbowolf's psychedelic, synth-punctuated rock 'n' roll is still highlighted on 2011's debut, self-titled LP
Turbowolf
, which was highly acclaimed. Both will light up the farm with pounding and galloping hard rock.
But if you want to step back for a second – take a look at
Oliver Wilde
, who recently released second album
Red Tide Opal In The Loose End Womb
less than a year after his debut
A Brief Introduction To Unnatural Lightyears
. Wilde came out of nowhere in 2013 and saw incredible reviews and was picked as The Guardian's band of the day, praised for truly embracing lo-fi traditions in his bedroom recordings. There's a subtle vocal delivery dripping with melancholy here, which has struck a chord with many. You'll also find some more intriguing tunes in the crowd for
Public Service Broadcasting
. This duo has been around for awhile now and is a great festival pull through their use of public information films and archive footage which they use to create sound pieces based on subtle beats, electronic instruments, and a little guitar here and there.
In amongst all this you'll also see
Tall Ships
(pictured) – Brighton-based experimental rock group that employs elements of dance-punk and math-rock which eventually led to debut album
Everything Touching
in 2012. And finally, give Thrill Collins a listen. Because of
THIS
.
Further Bearded picks are
Wolf Alice, Cerebral Ballzy, MaybeSheWill, Dad Rocks!
and
Johnny Foreigner
.
It's also worth noting that the Trees line-up tends to look different to most festivals; the organisers don't construct their bill because a band has a new album out, many have nothing to promote and it can be a great opportunity to see bands that aren't necessarily touring at length at the time.
The festival has a dedicated following, which had more than a little something to do with the insta-success of its sister festival ArcTangent last year – but that doesn't mean new followers aren't welcomed with open arms and a delicious local cider at the original 2000 Trees festival.
2000 Trees runs 10th-12th July at Upcote Farm in Cheltenhem.
Weekend tickets (Friday & Saturday, inc. camping) cost £75. Early entry tickets for the Thursday cost an additional £15.00. Finally, day tickets for the Saturday, including camping, cost £40.
www.twothousandtreesfestival.co.uk