Interview: We Were Promised Jetpacks
Nate Selby has words with Edinburgh's We Were Promised Jetpacks.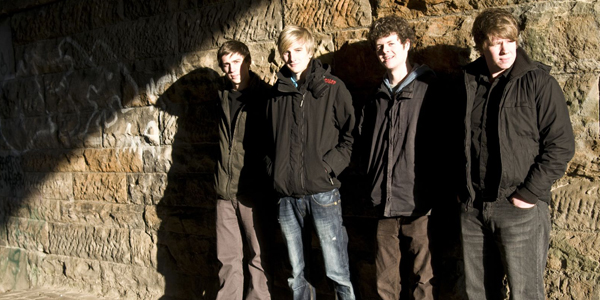 We Were Promised Jetpacks
are rising fast in the consciousness of everyone right now. With a rammed US tour, and a UK/Europe tour starting any day now, it seems fans of the "quirk" pop rockers can't wait for the bands second album
In The Pit Of The Stomach
. We caught up with the band to get the lowdown:
How was your experience recording this album different to recording These Four Walls?
When we recorded
These Four Walls
we didn't really have any experience being in a studio, we had only done a couple of EPs previously that took around a day or 2. We made a lot of mistakes during that recording process, such as recording the entire album live, so when we went into the studio this time around we had already made the decision a long time ago that we wanted to track every individual part separately! We also had a lot more time in Iceland than we did with the first record which allowed us to record as best an album as we possibly could.
What inspired the making of this album, is there a concept behind it?
Our inspiration was our record label asking us to record another album, I don't think there's much more behind it than that! Though when we wrote this album we decided that we wanted it to be 10 songs that were really fun to play, so every song we wrote we wanted it to be better than the last... it was a fun writing process.
Has your sound changed or do you feel like the same band?
We are still pretty much the same band, I think we've just progressed a bit. We did a lot of touring after the release of These Four Walls so playing together every night has helped us develop as a band but we are still just 4 pals playing rock music with a couple of guitars, a bass and some drums!
What's been the worst or craziest part of touring so far?
To be honest, touring is so much fun it's ridiculous - it's very rare that something bad happens. When we were supporting Jimmy Eat World in America last year our tour manager, Esteban (name and shame,) put unleaded petrol in our diesel van a couple of hours outside of Boston on the day of a show. Our van broke down and we were stranded in a truck stop in the middle of nowhere for a few hours. We thought we were gonna miss the show but we put on our band Facebook page that we were stranded and asked if anyone would come pick us up. 3 different people turned up in pickups and cars and drove us and all our gear to the gig. It was wild! We made it to the venue as we were meant to go on stage - it wasn't the best gig ever, but was an eventful day!
What's touring America going to be like?
Touring America is great. It's such a wild place to play shows, you'll get people driving insane distances to come to your shows. I once spoke to a guy who had come to our show in New York via a 15 hour bus journey, he was then leaving the show straight away to get the same bus home... Americans are crazy! The drives are really long over there too. Most days we'll have to get up super early and drive for like 8 hours to get to the next show! If the drive is less than about 4 hours there's usually celebration!
What's next for you guys?
We're playing a show for BBC Introducing on a Sunday night which will be broadcast live on Radio 1 in Scotland and England, which is pretty scary, that's a lot of people listening to us play! We've got a gig in Dundee coming up in a few weeks and then we're doing a FatCat European tour with our good pals The Twilight Sad and Mazes who we've yet to meet! It'll be good fun!
Oh.... album and single plug - since you asked what's next eh!? Our new album -
In The Pit Of The Stomach
, is out on 3rd October and our single, 'Medicine', is out on 26th September! Got to love a good plug.
We Were Promised Jetpacks Links