Interview: The Vacant Lots
Jared Artaud from the US psych/electro duo chats about TVLs recent second LP Endless Night and upcoming tour dates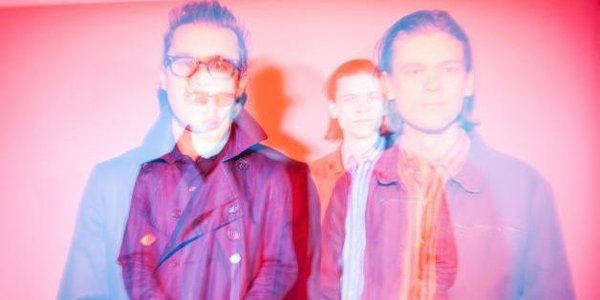 Resurfacing with their impressive second album
Endless Night
this April (
review
), US psych/electro duo
The Vacant Lots
shifted focus away from the garage rock inspired direction of their debut LP
Departure
(
review
) towards a deep-pile synth-led approach. Captured excellently in lead single Night Nurse (
video
), the aerated synth pop of Pleasure or Pain and Suicide Note, the final recorded performance by Suicide legend Alan Vega, the new songs retain an expansive, psychedelic standpoint, marrying the alternately sung/spoken vocals and weaving guitar lines of Jared Artaud with synth/programming maven Brian MacFadyen's bubbling electronic undertow.
Following a score of UK dates earlier this year, the pair are currently journeying across Europe supporting US alt. rock stalwarts Black Rebel Motorcycle Club. In view of the new album's greater emphasis on synth textures and electronics than was this feature of
Endless Night
planned at the outset of recording or did it develop along the way? 'Well, these are our ideas explored as we push our sound forward. We want to see our ideas through to completion' singer Jared explains. 'Since we produced and mixed it ourselves we wanted to make the album exactly as we wanted it to sound and look. You start with a vision and work from there'.
Appearing between the two albums, the Vermont based duo worked on recordings with Brian Jonestown Massacre kingpin Anton Newcombe at the psych pioneer's studio in the German capital. How was it working with him and what did he bring to the recording process? 'We worked with Anton on our last
Berlin
EP (issued in December 2016). This new record experience was done in his new studio located in the city. We had a few days off so Anton and I talked about making another record. All day and night in the studio working out the songs. It's inspiring being around Anton and watch ideas come to life, his level of focus and intensity is unparalleled. Anton brings his own perspective to the session and fully immerses himself in the process. He also challenges us while creating to make the music as powerful as possible. What more could you ask for from a producer?'
'We started writing
Endless Night
shortly after
Departure
was released in 2014' Jared recalls. 'For me my work is a continuum. Something that is constantly developing but has a continuing aesthetic. Each record documents new feelings and ideas but also deals with present experiences. I can tell you that the record we are working on with Anton has been influenced by what has happened in Paris and Manchester and other contemporary atrocities. I think a lot of the shit that is happening in the world right now is inevitably affecting the writing. These are pretty fucked up times we are living in and a lot needs to change'.
Ranging from venerable US news publications to profiles of artists and sculptors, published poet Artaud's reading has been voracious during the creative process. 'I've been kinda hooked on all the current events and political shit.
Time
magazine,
New Yorker
,
The Atlantic
, I've been devouring those publications but I need to stop cos it's a black hole that stuff' the vocalist explains. 'I've been reading some books on World War II and French poetry and just writing a lot lately. I recently read a few books on (American surrealist painter) William Copley, (US artist and sculptor) Ellsworth Kelly and (New York expressionist painter) Barnett Newman that I liked. I have a stack of books at home I'm planning to finish when I get home from tour'.
Showcasing the band's ability to easily move between styles, pulsatant
Departure
cut 6 AM was re-tooled into shimmering psych pop track Dividing Light for
Endless Night
Shifting downtempo, towards something that resembles Spiritualized or The Velvet Underground at their gentlest, the arrangement skilfully reimagines the track. What inspired the idea of creating a redux of the song? 'It's completely new music and we appropriated the lyrics to fit. Why not reinterpret your own music?' Jared reasons. 'There are no rules and no blueprints so make your own maps. In fact, the original demo to 6 AM was a slow burner track not speed and intensity. I believe in the completion of your ideas and you should do whatever it takes to make the work. This is what we wanted to do so we did it and didn't second guess ourselves or compromise. Further, we like the duality of both versions'.
A touchstone influence, Suicide vocalist Alan Vega's last recorded performance was his valedictory contribution to
Endless Night
's closing cut Suicide Note (
video
.) A mentor to the duo, the New York native collaborated with the pair on 2014 single Nike Soldier and described working The Vacant Lots as 'passing down the torch'. How did you go about shaping Alan Vega's vocals into the song format? 'We didn't have to shape them since Alan's vocal fit perfectly with the music. A few tweaks here and there and what you hear on the record is what I heard coming through the speakers in the studio when we were listening to vocal tracks from his vault' Jared explains. 'If anything we wanted to bring out the nuances of Alan's singing. And if you listen closely on headphones you can really hear the strain and totality he gives to his vocal performances'.
A highlight of the Liverpool International Festival of Psychedelia 2014, where The Vacant Lots played in the vast former industrial space of Camp & Furnace, the duo's live show was aired in decisive, eardrum-rattling form. How has the process of performing the new songs from
Endless Night
live been? 'That was a good show Liverpool Psych Fest. We had a good time' Jared recalls. 'I think our live show is different from our studio albums and that's OK. We like the idea of having a duality between live performances and studio recordings. You get one thing on record and another live. We don't try to recreate anything, we try to present something new and different'.
'We haven't used visuals since 2015, we hit pause on that' Jared says of the band's stage presentation, which used to see them backed by a series of psychedelic projections. 'We just use the stage lights and I take an active role in choosing the colours and direction for that before our show each night. Each venue is different but I really wanna strive to create a space on stage that looks like a James Turrell
piece
(US artist known for his vast installations), a certain kind of atmosphere' the singer explains. 'The projections for me have always been a visual language. Something subconscious behind the music. I'm still open to the idea of having new visuals that represent the band but I haven't found a visual artist to collaborate with on it yet'.
To conclude then, an appropriate final question, given the discussion of reading material, how do you feel about Bob Dylan's (entirely deserved) Nobel prize for literature a year on? 'Go Bob' Jared responds. 'No one has done more lyrically in rock n' roll than Dylan'.
Endless Night is out now through Metropolis Records

The Vacant Lots play:

European Tour w/ The Black Rebel Motorcycle Club:

Nov 10, Le Splendid, Lille, FR
Nov 11, L'Autre Canal, Nancy, FR
Nov 12, La Laiterie, Strasbourg, FR
Nov 14, La Belle Electrique, Grenoble, FR
Nov 15, Paloma, Nimes, FR
Nov 16, Le Bikini, Toulouse, FR
Nov 18, La Sirene, La Rochelle, FR
Nov 20, Paradiso, Amsterdam, NL
Nov 21, De Roma, Antwerp, BE
Nov 22, Elysee Montmartre, Paris, FR
Nov 25, Grosse Freiheit, Hamburg, DE
Nov 26, Columbiahalle, Berlin, DE
Nov 27, LMH, Cologne, DE
Nov 28, Tonhalle, Munich, DE

Tickets are available here

Photo credit: Samuel Quinn