Interview: The Leisure Society
Interview with Nick Hemming, frontman / songwriter, of the Leisure Society.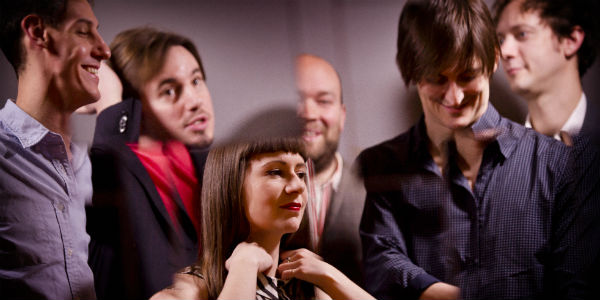 The Leisure Society
are a class act and no mistake. The band are currently touring the UK in support of their fourth album,
The Fine Art of Hanging On
, on Full Time Hobby. Before their storming gig at Islington Town Hall in April, frontman and songwriter Nick Hemming chatted with Bearded's Ben Wood about triumphing over adversity, the importance of looking sharp, and Ray Davies' amazing collection of kit...  
Bearded: We like your band name. How did you choose it?
Nick:
The concept is from the 1930s I think [Bearded: it was a 1930 essay by economist John Maynard Keynes]. Everything was being automated at the time, so they thought that by the '50s or something most people wouldn't work anymore as it would all be done by robots or machines. So we would spend our days finding leisure activities to pursue. It was an ironic name from my point of view 'cos I'd spent ten years doing menial jobs to pay the rent so I could focus on my music. I had no aspirations for a career: I'd be working 9 to 5 then spend all my free time writing, rehearsing or playing music. I didn't really have any leisure time unless you count the music!
There are a couple of interesting slogans on your website - 'defeating the odds with a fistful of Avalon', and 'it's all worth going through'. Could you elaborate on them please?
They're both from the album's title track. 'Defeating the odds with a fistful of Avalon' is about having something you can hold on to that makes sense of the world - a place or a person or an idea. In my case it's music. I was reading a beautiful George Mackay Brown poem called 'Hamnavoe'. My song's line was originally 'a fistful of Hamnavoe' but I changed it to Avalon, an English equivalent. A lot of my lyrics are based on my own adversity. I don't write anything when I'm really happy as I don't feel the need. The only time I write lyrics is for catharsis.
How did you start writing songs in the first place?
I started off as a guitarist in bands, I was never a songwriter [Bearded: Nick grew up in Burton-on-Trent. As a teenager he formed indie band She Talks to Angels with art college friend, now film director Shane Meadows, plus the now actor-director Paddy Considine. Later, Nick played with indie band The Telescopes, who were signed to Creation Records]. Then I went through a mini-nervous breakdown and out of that, the songs came. That's always been lurking in the background of my songs - a feeling of failure than finding something positive out of really negative circumstances.
Your bandmate Christian Hardy played an important role in helping you become a songwriter, didn't he?
Yes... The Leisure Society started in Burton-in-Trent but it wasn't really a proper band yet. We did two gigs but at that point it was just me in the studio, and a few friends who would help me out when I played live. However, at that time I didn't have the confidence to be a singer and I found the gigs so intense and difficult to do that I just stopped. Then when I moved down to London to play guitar in Christian's band I started writing all these songs which became our debut album. One night he said 'let's do one of your songs in the set tonight'. Gradually we did more of my songs and it became a completely different band. It was a really organic process where he prodded me to do more and more. I'd played gigs for years in bands and either nobody would turn up or they'd turn up and nobody would really listen. Then all of a sudden we were supporting bands and people were queueing to see us in home-made T-shirts. We thought 'there must be something good in this.' I think that's the only way it would have worked for me 'cos I would have never had the courage or self-belief to take the plunge otherwise. It was a slow dawning for me - 'maybe I can be a singer, and maybe I can write songs.' I still don't totally believe it, but I'm more confident now than I have been!
We saw the band play several years ago, and were impressed at how dapper you looked and what a good impression you made visually. Is that important to you?
Yes... it used to be pinstriped suits but now 'smart casual' is the rule on-stage! It's always nice to make an effort... It's better than being one of those bands that look like roadies or like they've just walked in off the street!
You often get tagged as a folk or folk-rock band, but that seems slightly wide of the mark... What are your thoughts on the subject?
When we first started out we used a lot more acoustic instruments in the studio but I never really liked being called a folk band. Traditional folk has never appealed to me and when the lyrics get all mystical it leaves me completely cold. I never thought we were anything like that although we use violin and acoustic guitar. I was just trying to do contemporary music, pop songs. I hate to say it though as a lot of folk people have really championed us. We still get that tag even though we use heavy distorted guitars sometimes and have pretty eclectic influences. Maybe it's because we started out when a lot of people were using acoustic instruments - Fleet Foxes and Grizzly Bear and the like - but they're not folk either!
Maybe sometimes it's just people not listening very hard! We are intrigued by your eclectic choice of covers [the band has covered the likes of beautiful Beatles ballad 'Something' and Gary Numan's 'Cars]. Do you like to do covers - and are there any you would like to do in future?
We only ever do covers when we are asked to do them for radio shows or compilations! Usually we choose songs we think we can do something different with. 'Something' is quite faithful apart from the ukelele, and we used a bit of sitar as a nod to [songwriter] George Harrison. We did 'Cars' cos it's a great song and it's not one you would ever imagine us covering but it's got all these amazing melodies in it. It's one of our most successful covers I think - we like doing songs where you can bring out another aspect of it. We also did Erasure's 'Respect', it's a classic pop song and the lyrics are amazing.
You recorded this album on analogue tape at The Kinks' Konk studios. What was it like to make an album there, and did you feel the magic rubbing off?
Konk has changed quite a bit over the years but it's amazing. It has a brilliant drum sound and the engineer has access to all their amazing vintage mikes. [Kinks legend] Ray Davies has always been rich so he can buy whatever he likes and he just leaves it lying around. He's got these vintage tape machines, some of which are worth a fortune. He doesn't really get rid of anything so there's so much treasure in there... It's great for horn sounds as well.
You have worked on the soundtracks to several films through your friendship with Shane Meadows [Meadows hired Nick to score 1999's A Room For Romeo Brass and 2004's Dead Man's Shoes, and the band's We Were Wasted is the closing music for Paddy Considine's directorial debut Tyrannosaur]. Would you like to do more film work - and do you consider your music particularly filmic?
I'd love to do more film work. You can just do it in your own room - you don't have to think about how it will appeal to people, you're just trying to enhance somebody else's vision. I love writing a song, it's my favourite thing in the world, but sometimes it can be a laborious process and take over your life - whereas with films, there's less pressure in that, and it keeps you a bit freer in some ways. It's quite a difficult thing to get into, though, 'cos it's one of the few things in the music industry that still pays fairly well! There's a lot of competition and I'm not very good at pushing myself. My friend Paddy Considine, he's directing more now so I keep pestering him!
And on that wistful note, Bearded takes its leave. Nick has other journalists to see, and an audience to wow. But if there is any justice, his vision deserves to be communicated to a wider audience - both on record and on-screen. As Spud said in Trainspotting, his Leisure is our pleasure...
The Leisure Society Links