Interview: The Barr Brothers
Ben Wood talks to The Barr Brothers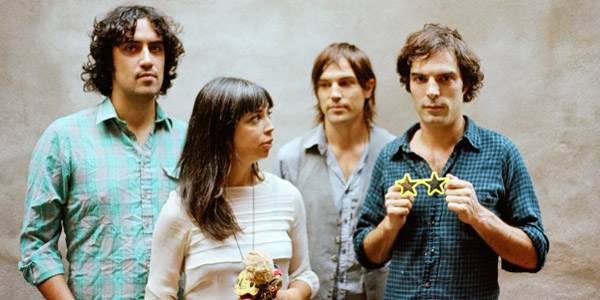 Brad and Andrew Barr have been playing music together most of their lives. The super-talented siblings discuss their love of Malian music; their new band's unconventional line-up; and a childhood spent playing music… and fighting each other!
When they were growing up in Providence, Rhode Island, Brad and Andrew Barr's dad bought them two sets of boxing gloves. He figured it was a pretty good way for the boys to get rid of any tension between them – and it seemed to work. Every now and then, they'd climb into the ring and try to pummel each other into submission. Pretty soon, their gloves were in shreds – and they moved on to musical instruments.
In many ways their relationship hasn't changed too much since then. Whether writing and rehearsing together, or touring – in rock trio The Slip and now
The Barr Brothers
– they are super-close, though not opposed to the occasional spot of brotherly fisticuffs. Their sound has evolved into a fluid, folky and organic melange with influences from all around the globe.
Keen students of music, they are talented multi-instrumentalists who, later that night, will coax beautiful sounds out of a bicycle wheel hooked up to effects pedals, and a piece of wood scored like a violin, with a peanut bowl attached! These boys could make music out of anything, but despite their abilities, they are still as enthusiastic about new sounds as the geekiest of fanboys.
The brothers (singer and guitarist Brad, and drummer Andrew) are speaking to
Bearded
in a back office before their gig at central London venue The Slaughtered Lamb. Their touring line-up also features harpist Sarah Page (who will turn up halfway through, clutching takeaway curry) and bassist, and newest member, Andres Vial.
Andrew acknowledges that, like many siblings, their relationship had its tempestuous moments, and their dad had an unusual way of dealing with this: "Our dad gave us two pairs of red boxing gloves when we were eight or ten. I guess he thought we were beating on each other anyway, so we might as well do it proper! So we drew up a little ring in the basement, we'd go down there and have at it."
Brad says they both found it cathartic, and there were no hard feelings once they left the ring: "Kids are going to fight, especially brothers, and our parents made it legal: 'there's a time when you get to do this, and it's OK'. Plus there were some rules we had to stick to…"
Before long, the boys had just two shredded gloves left between them, and they began to focus their energies on music. Brad admits: "I don't really remember when we started... I think we made little cassette tapes of us jamming on a cardboard box, a plastic guitar, rubber bands…" When the brothers' parents finally bought them real instruments, they quickly became obsessed.
Andrew enthuses: "My greatest joys were thumbing through Dad's records as a kid, then I started earning money and going to the record store and finding those rare records and just eating it up as much as I could... Sometimes playing is the only thing that can calm your mind."
Brad describes music as "a constant" presence in their lives: "Playing music is the most natural way we communicate." He reveals that "We were very curious about exploring the rules of music… We went to school and studied up on the great players and composers and improvisers."
The brothers dropped out of their music course before they graduated, but Andrew says it was an invaluable experience: "It was part of our education… as well as listening to good rock'n'roll, we were also trying to understand the rules of harmony and rhythm. We got into Indian music and percussion, working in different metres and melodic shapes..."
Decades on, Brad and Andrew are an unbreakable musical partnership, but that doesn't mean tempers don't still fray, admits Brad: "Maybe a fist fight once or twice a year. Someone just smacks someone, but it doesn't go on very long. You start laughing and realising how ridiculous it is. Things get resolved pretty quickly. Also we've got our bandmates as an added dynamic. Andreas [bass, keys, percussion] and Sarah [harp, occasional guitar] are both really strong personalities."
They are also too dedicated to the music to sabotage it, he says. After years spent rocking out in improvisatory rock trio The Slip, their latest incarnation is a subtler, mellower beast: "Andrew and I have to be pretty grounded for it all to work. It's not balls to the wall, crank up the amps, blast your guitar - though we have done a lot of that in the past – but for the most part there's this really delicate balance that has to be maintained… it can get stressful. We've got to keep it together."
Brad met harpist Sarah when he moved to Montreal, and he heard beautiful sounds coming from next door: "Sarah was practicing and she was really good. It was a glorious angelic sound. Eventually we met and became friends." Sarah's harp added extra dimensions to the brothers' sound, and they found they had a lot of shared musical ground.
Andrew enthuses: "It was really inspiring... We shared a love of a lot of music from Mali, and we really dug Ali Farka Toure. I'd been there before, to visit, and Sarah is into the kora, which is a West African harp. We realised the way these people [in Mali] play is big and intense and people can dance to it, and they can also be really quiet. There was a chance to do that here, in our band." Brad agrees: "We hadn't seen many other people do this sort of thing, so it's good to have this challenge, and see it through. It's exciting - there are no real rules for it yet."
Brad says that the band is always looking to collaborate with other musicians: "We play with Malian musicians whenever we can. There's a big Malian community in Boston." He points out that the musical traditions that Sarah's harp-playing derives from are one of the roots of blues – and hence most of Western music: "Just putting harp onto a Delta or Chicago blues seems ridiculous, but if you go back to a lot of the roots of the music, it's tonalities are from West Africa."
The band may be super-accomplished musicians, but they still have the mentality of fans. Brad responds to Bearded's comparison of their song 'Beggar in the Morning' to John Martyn by immediately checking out the late cult singer-songwriter on iTunes. They also wax lyrical about performing on the David Letterman show; reveal that 70% of their US album sales are from rural towns ("We like going to small towns, people are always intrigued"); and discuss toning down the lyrics to their Christmas song 'Mrs Claus' (you might want to hurry on home, Santa…!)
The band had a ball making their first album, says Brad: "We didn't know we were making a record, so we didn't feel any pressure. We were just messing around in the studio... and we haven't really got sick of the songs… we've played some of these songs hundreds of times, but we still keep learning things about them." And they're excited about their ideas for its follow-up, which promises to be equally eclectic.
The band is excited to be playing London, but also looking forward to the luxury of three days off. Brad has plenty of ideas of places to visit: "Maybe the British Museum… Abbey Road… Keith Richards' birthplace… Harrods' toys department…"
That night's gig is a blinder. Despite years on the road, the Barr Brothers seem as enthusiastic about music, and life, as when they started out, and their attitude is infectious. These Brothers have already worked it out.
Interview conducted before their headline show, The Slaughtered Lamb, London 02.05.12