Interview: SeaWitches
Liverpool art rock/post punk quartet SeaWitches chat to Richard Lewis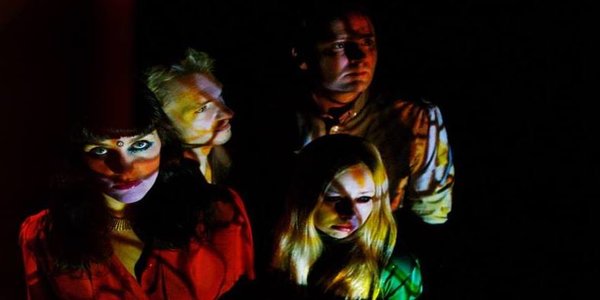 'Do you think we could ask them to turn the bass down?' Jo Herring wonders out loud glancing at the ceiling which has been issuing a non-stop rumble of four string thudding for the past fifteen minutes. Huddled around a practice room fan heater
SeaWitches
have been hunkered down rehearsing in Princes' Building Studios high above Dale St. in Liverpool city centre for the past few months.
Basslines have been on the group's mind collectively of late with a shared interest in trying to unpick the indelible parts created by Jah Wobble and Steve Hanley of Public Image Ltd and The Fall respectively, the two band influences a perfect fit with SeaWitches' musical goals at present. 'Epic angst disco' Jo nods. 'That's what we're pitching for'.
Showcased on two superlative EPs, the propulsive noir pop of
Spacegun
(2012) and the brittle art rock of
Tear Back the Sky
(2014) (
review
) SeaWitches effortlessly juxtapose jagged and velvet soft, combining razor wire post-punk guitar lines with Afrobeat rhythms and a lush psychedelic dreaminess that seeps deliciously into the memory.
Set to issue their debut 45, the deceptively upbeat jangle pop bijoux '
Stars
', the band formed by Jo (vocals, guitar, bass) and Laura Caldwell (vocals, guitars, bass, keys) in 2007 have been backed by a slowly revolving door of drummers and guitarists, the line up consolidating with the arrival of sticksman Tilo Pirnbaum and then guitarist Jamie Jenkin last year.
'The whole dynamic of the band has shifted, it's like we're complete now, we've never felt like that before' Jo enthuses. 'It was always like there was something missing, now it feels as though we're a proper band for the first time. In the past several years it's been me and Laura trying to coax different people to get involved at different stages, but we're all equally committed now'. 'One of the great things about having Jamie here is that our live sets are now much more diverse' Laura states. 'For a while with just the three of us it limited what we could do'.
Plans afoot late last year to recruit another new member to play keys meanwhile were quickly jettisoned with the acquisition of an indispensable bit of new hardware. 'We kinda have got a new member, that thing over there' Jo gestures, pointing at the sampling pad alongside the drumkit. 'We realised that we still hadn't explored what we could do with the four of us and now having the pad we can play some of the songs to a backing track' Jo explains. 'It's not like playing to a click' Tilo explains. 'It's more to give some of the tracks a background texture'. 'If we had got another band member they would have been helping out with the rent though!' Jo laughs.
Whereas the two EPs had both been self released, 'Stars' is being issued through
The Label Recordings
a venture established by Edge Hill University and fronted by Carl Hunter, bassist from Liverpool group The Farm and lecturer at the Uni. The poppiest track in the track in the band's catalogue ('It was literally the first song that we ever wrote' Jo explains) the cut was initially issued last year as the lead track from
Tear Back the Sky
EP.
The inaugural release through The Label Recordings by fellow Merseysiders excellent slacker pop ensemble
Hooton Tennis Club
was something of a notable success, as the band were then swiftly signed to Heavenly Records. Following a second release by indie-pop duo
The Little Secrets
, SeaWitches were approached via a fantastic bit of serendipity. 'Carl heard 'Black Bark' (from
Tear Back the Sky
) on BBC Radio Merseyside' Jo explains. 'They played it after they read out a Tweet from Jamie saying how we were excited about releasing a new EP 'cos we think it's the best stuff we've done by a mile. It really felt for the first time we got the kind of sound we wanted on a recording'. 'Off the back of that Carl got in touch through Facebook and said I want to put you out on the label' Jamie adds.
While 'Stars' represents one of Jo and Laura's earliest completed tracks, the band have been prodigiously amassing new material. 'We're always writing new stuff, but at the moment we've got to put practising before that. Everytime we jam though something exciting happens' Jo states. 'Any one can come in with an idea and then we'll jam around it. Lyric wise everything is fifty-fifty with me and Laura, although we've just started writing lyrics with Jamie now. We all write the music and arrange everything together, Tilo is great at arranging the songs'.
The simpatico between the band's founder members has understandably developed over the years, with the rapport between the two now near-telepathic. 'After years of writing with Laura we tend to just know whether something's working or not, some lyrics Laura writes it's as though she's managed to brilliantly articulate something that was on my mind' Jo explains. 'Often words will come after us chatting for hours about things affecting our lives'.
With a completed stockpile of songs numbering 'over thirty to forty' Laura notes, old tracks can also be cannibalised for new songs. 'There's load of old stuff and sometimes it re-appears unexpected. When we started playing together Jo and I, we didn't start gigging for two years, that whole time we were just writing songs' Laura says. 'I'm still hearing new songs, stuff that's been written that I never knew existed' Jamie adds. 'Which is really exciting 'cos I can listen to it and think I could add this to it'.
Led by Jo's striking voice, SeaWitches sonorous lead vocals have become one of the band's trademark elements. 'I like experimenting with what my voice can do and that seems to still be evolving' Jo explains. Citing 'the power of Ian Curtis' delivery and Mark E. Smith's phrasing' as inspirations alongside Johnny Cash, Jo highlights Velvet Underground chanteuse/muse Nico as a primary influence. 'I love Nico, I've purposefully not over-listened to her. I don't think anyone could sound like her even if they tried'.
Heading over to the guitar stands and drumkit, the quartet work their way through a slew of new material that exhibits a compelling newfound sulphurous edge. More than matching the 'epic angst disco' mission statement, 'Skylight' booms along on a darkly malevolent riff supplied by Laura while the sepulchral 'Starlight Love' and the caustic rush of 'Fathead' brilliantly demonstrate the band's spikier side. Given greater heft by having its clockwork bassline supplied by the sampling pad,
Spacegun
highlight, Talking Heads vs. Siouxsie and the Banshees dust-up 'Another Clown Fight' stomps past while 'Tempest', warily introduced as 'a very new one' in case of any false starts rips past sounding like the finished article. 'Lumumba' named after the assassinated leader of the Republic of the Congo, Patrice, provides the standout moment of the mini-set, Tilo's exemplary beats meshing with a subsonic bass riff worthy of Fela Kuti.
For the group's next move new material will hopefully be forthcoming later this year, possibly in the form of another 45. 'A second single that would be good would be 'Another Clown Fight'' Jo ruminates in a break between songs. 'It's kinda like a bridge between the poppy stuff to what we're doing now'. And judging by current evidence the stuff SeaWitches are doing now is pretty breathtaking, all told.
Stars is released through The Label Recordings on February 16th
SeaWitches play:
Hooton Tennis Club single launch at The Shipping Forecast, Liverpool on Feb 20th w/Rongo Rongo & Hannah Lou Clark
Alan McGee's Creation Sessions, District, 6th March
The Kazimier, Liverpool 10th April w/Tear Talk & Esa Shields