Interview: Last Harbour
Ben Wood chats to Last Harbour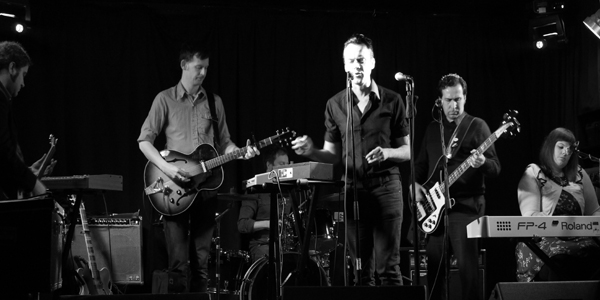 Last Harbour
are a Manchester-based band playing darkly cinematic and swooningly atmospheric songs. Uncut described their sound as "like Scott Walker reordering Bowie's 'Heroes'", and they have played alongside the likes of Josh T Pearson, The Dirty Three, Devendra Banhart and The Handsome Family. Singer Kevin Craig talked to
Bearded
about the band's latest album
Your Heart… It Carries the Sound,
as they prepare to hit the road once more.
Bearded: We love Your Heart… It Carries the Sound. It sounds really classy and well-realised – full of great songs, singing and production. Were you pleased with it?
Kevin: Yeah, I think we were all really pleased and quite surprised with how the album came out. I guess there'll always be unknown elements when you work on something like this and we didn't
really
know how the album would sound until it was presented to us. We were working to self-imposed rules: 1) The album would be recorded in one location; 2) The album would be recorded within a strict timeframe; 3) The album would be as live as possible. So once you accept that they're the rules, you have to accept the outcome. Luckily we were happy with it and didn't have to bury it in the garden, late at night!
B: The album got some good reviews and feedback from critics and radio DJs. Do you feel it got the attention it deserved?
K: The reviews have been great. The Sunday Times were very complimentary. People said some quite lovely things about the record. More attention would have been great, but I don't feel that anyone can wander around demanding recognition. That would be grotesque. We graciously receive.
B: How were the songs written?
K: They tend to be written one of two ways. Either slowly built up from one small instrumental idea, with each member adding their own input, then carefully arranged over a period of time with the lyrics added towards the end. Or it all comes out in one bloody mass, like a pulled tooth, complete. But they're always a collaboration.
B: Your record company bio says the album was "written in isolation in a small Northumbrian cottage". How was that? Did it impart a certain atmosphere to the songs? And did you go stir-crazy at any point?
K: It was a siege mentality. We locked ourselves away from everything. We'd wander up to a forest of firs, get a little lost, then find our way back to the cottage and write as furiously as we could. I think a lot of it seeped in. It affected how the songs moved. We were all stir-crazy, all of the time.
B: Why did you record the album in a church – was it for the acoustics?
K: We'd decided that all of the recording would be in a non-studio area, and that the building would be a part of the recording process. I don't believe we were thinking of a church specifically. But St Margaret's Church close to home in Manchester had the space and the acoustics. And they would let us use it exclusively for a week, so we could re-create our Northumbrian siege mentality.
B: We're guessing the procedure kept you focused – you can't really do too much partying in a church, right…?!
K: Late night church parties are the best parties.
B: Does it feel like you've found your sound on this album?
K: I think we've found our sound for now. It was a fairly conscious decision to pare things down. That came out of the writing process.
B: The album has quite a sombre, melancholic feel. Is it an accurate summation of your approach to life – or is it more of a case that when you're feeling really happy, you go out and enjoy yourself, and you write when you're feeling more introspective?
K: It's a fairly accurate summation of
my
approach to life. I thought that this was, at times, our happiest record. I guess I have a funny idea about happiness.
B: What would you say are the album's main subjects, lyrically?
K: One of the main subjects throughout the album is the insular world, the world away from everyone else, particularly on songs like 'If You Mean To Be Lost' and 'Replacements'. That's why we locked ourselves away, in the cottage and then in the church to record, to build a cocoon. I think a lot of our previous songs had been focused on narratives, but this album was an attempt to move away from that. The insular world, that's the 'Sound' of the title.
B: How do you compare it to your earlier work?
K: I haven't listened to
Your Heart…
and [previous album]
Volo
together. It's a little difficult to compare because they were both recorded under such different circumstances.
Volo
was designed to be expansive and encompassing,
Your Heart…
was deliberately tied into a specific time and place.
B: At times, the album seems reminiscent of the likes of Nick Cave and the Bad Seeds, The Tindersticks and Scott Walker. Do you agree? Do you find such comparisons flattering, or irritating?
K: Comparisons are strange things. They're both very flattering and very reductive at the same time. I can understand why they're used, they're like shorthand. But any Scott Walker comparisons leave me blushing and puzzled. Scott Walker is the greatest.
B: Did you have any particular musical references when making the record – or did you deliberately want to avoid them?
K: Although it isn't at all evident on the album, we had a Bowie thing whilst recording. James (viola, tenor guitar, synth) kept bringing all these analogue synths down and we were all talking about
Low
and Eno and Roxy Music. And we ended up wanting Roxy-like saxophone on 'Narrow Hearts'. And Sam Lench, who produced the album, kept shouting at me whilst I was trying to record my vocals- 'MORE BOWIE'! I can't sing like Bowie. But that was Sam's instruction. Finally, whilst recording the dying church organ, a microphone picked up a stray radio signal from somewhere. There it was on the recording - 'Ground control to Major Tom'…
B: How about non-musical influences?
K: Cinema has always been a fairly big influence on us. Directors like Bela Tarr, Andrei Tarkovsky, Carl Theodor Dreyer. You know, all the fun stuff.
B: The band has been described as a collective, with its members also producing illustration, photography, film-making, other music. What other projects have you and your colleagues been involved in, of late?
K: David Armes (guitar) is currently perfecting his letterpress printing, along with various other mysterious projects; James Youngjohns is in the process of putting together an analogue recording studio; Michael Doward (bass) is currently working on the new Woodbine & Ivy Band album. David and I have been co-ordinating on a series of shows for [the band's record label] Little Red Rabbit in Salford (he arranges, organises and curates everything; I show films). James and Michael also played on the new Quiet Loner live album, recorded at a Little Red Rabbit show. It all starts to feel like one continual project.
B: The new dates will feature a live film collaboration with visual artist Andrew Brooks. What form does this take?
K: We're really happy about this. Andrew is a fantastic photographer, but he also works in film. So the idea is that we'll play a series of songs and Andrew will mix specific film to that song, projected above or around us. It's a move away from us playing a straight show, towards a collection of integrated music and film. It's always been something we've wanted to do, so it's great we've got someone of Andrew's calibre onboard for this short series of shows.
B: Do some of you still play as the Last Harbour Gentleman's Quartet?
K: We haven't played as the Gentleman's Quartet for some time. It was a stripped-down acoustic version of the band, which played when Gina (piano, vocals) was unable to join us. So it was men-only, our boy band! We did do a radio session as a Gentleman's Quintet recently, which went on to be the basis for the extra tracks on the 'Replacements' single.
B: How many of you are still based in Manchester?
K: Of the six of us, five are Manchester-based.
B: Has the line-up been fairly steady over the years, or have there been a fair few changes?
K: The line-up has been pretty constant. Sarah Kemp (violin) had to take leave of absence due to her commitments with the stunning Lanterns On The Lake. Long-term drummer Huw McPherson had to step out due to an ever-increasing family, so Tom Rydeard of Samson & Delilah stepped in for the recording of
Your Heart…
Now we have a full-time drummer in Howard Jones. But we seem to be fairly solid.
B: Have you found Manchester a good base for the band in terms of sympathetic venues and record stations? Are there any kindred spirits, as far as other singers / bands are concerned?
K: I don't really think we're part of a scene. Our label is based in Manchester, so we do have an extended family through that. The Front & Follow label is putting out great stuff at the moment. Hey! Manchester put on some of the best shows in the city. Sacred Trinity Church in Salford have been greatly sympathetic, hosting our label shows over the last two years. There are some great artists around, like Easter, Air Cav, We Are Willow, riverrun, Danny Saul, DBH, Dave Birchall's solo and duo work...
B: The band played some dates earlier this year just after the album came out. How did they go down?
K: We'd been locked away writing and recording so we were really focused. Someone described a show as 'muscular'. I was happy with that. We had a fairly intense London show at The Half Moon - and a fairly emotional one at The Band On The Wall in Manchester.
B: Regarding your fanbase, are there any places where you are particularly well-received?
K: We do tend to sell some records in Italy, Greece and Belgium/Netherlands. At the show in London we met some lovely Turkish fans. Just small pockets of people from all over. It became more noticeable on the last tour. People from places I would never expect.
B: It seems increasingly tricky to make a healthy living in the music industry nowadays. Do you and the band have day jobs – and if so, what are they?
K: David's doing a letterpress print residency at the moment and is also a tour manager, James and Michael work in a music shop, Gina works for the British Museum, Howard works in logistics for bands on tour and I'm studying illustration and animation. Making any kind of a living from music is so difficult. But if we were doing it for the money, we'd have more dance routines.
B: What can fans expect from the live performance – are you one of those bands who attempts to recreate the sound of the record, or will they sound quite different?
K: The building was such a part of the record that we couldn't reproduce that perfectly. So the live show and the films are a reinterpretation of the songs. There have been some rearrangements. Ultimately we're looking to create a stand-alone, unified show.
B: What about future plans for the band? Any ideas for a new album, or collaborations?
K: We're undergoing a longer writing process this time, in the space that we'll be recording the next album. We're putting some new songs to the test on this tour. And we're looking at further collaborations. Bigger, stranger things…
….
Last Harbour UK tour dates - featuring live film collaboration with visual artist and photographer Andrew Brooks:

Mon 22 Oct: Preston, The Continental
Tues 23 Oct: London, Wilmington Arms
Wed 24 Oct: Manchester, Islington Mill
Thurs 25 Oct: Liverpool, Mellowtone at Leaf
Fri 26 Oct: Sheffield, The Shakespeare (without Andrew Brooks)