Interview: Black Hearted Brother
Nick Holton of space rock/shoegazing trio Black Hearted Brother chats to Richard Lewis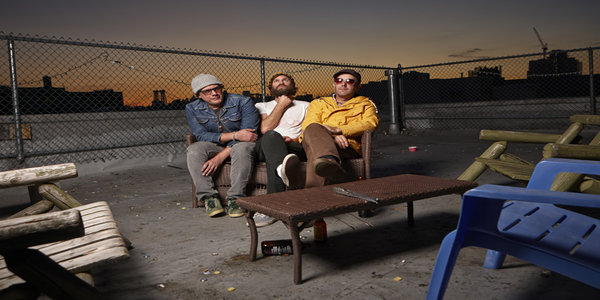 Comprised of a troika of indie rock notables: Slowdive kingpin/former Mojave 3 mainman Neil Halstead, Mark Van Hoen of Locust/nineties indie contenders Seefeel and Nick Holton of dreamy alt country acts Coley Park and Holton's Opulent Oog
Black Hearted Brother
had an excellent 2013.
Gathering together under the BHB banner after years of working on each other's records ('The idea of being some sort of brotherhood was appealing' Nick explains) the three-piece issued superb debut LP
Stars Are Our Home
to warm critical notices. A glorious collection of analogue space rock awash with antique synth sounds and vintage drum machines, the album takes in excursions into in rustic psychedelia, wistful alt country, progressive rock and Balearic dub. With an EP featuring album highlight, squelching synth-led indie disco contender '
Got Your Love
' backed with remixes and new track 'Don't Take the Weight' imminent, Nick explains how the project came about.
'We formed the day of naming really' Nick recalls of the band's genesis. 'We were noting down some ideas for songs and Neil suggested we work on an equal collaboration and a good name would be Black Hearted Brother. The album did take a while, though. A few tracks developed quickly and started to form a standard for the others to reach. Actually, if we're honest, the best way of describing how we went about making the album is 'not planning' or 'un-planning', we did just follow our noses. We had a little time off when Neil made
Palindrome Hunches
and Mark released
The Revenant Diary
.'
After working with each other as producers/additional musicians on several projects over the years how was it collaborating on an equal footing? 'In some ways slightly more difficult' Nick states. 'If it's someone's project then the direction is very clear and you go with their vision on it, but with BHB it's more democratic. Most of the time we agree, but there are other times where it's two against one… and there have been threats of violence over the internet. We are lucky we have the Atlantic ocean as a buffer, or there would only be one of us left. Not saying who though!'
With the group members geographically scattered variously across Oxfordshire, Cornwall and New York, the trio developed a method of working long distance. 'We wrote most of the songs together which was really nice as we'd only really worked on production or post-writing in the past' Nick explains. 'We'd write with the computer, too – cutting up, looping and moving whole sections sometimes from a completely different abandoned song! There was also a 'Chinese Whispers' method which was only possible due to the internet. You'd kick a song/idea off, post it and then it would go on to the next person, from Wallingford to New York to Newquay. This was a really exciting way to work and proved quite quick towards the end.'
Wrapped in a stunning sleeve, a vivid oil screen backdrop overlaid with a messenger of the Gods style archer, (the image also features on the EP artwork) the theme to the cover has meaning beyond its initial impact. 'The artwork is inspired by the wonder of space. The cockpit on the inside gatefold is a version of an Amon Duul II album we saw at (Coley Park guitarist) Kev Wells' house. We incorporated many of the instruments, synths and Mark's wife's dead mouse in our cockpit amongst other stuff. There is of course a secret meaning to Archer on the cover (as a member of the Brethren I cannot tell) it will however reveal itself upon repeated listens to the album...' Nick explains cryptically.
On the subject of artists who influenced the album, the trio ensured the tracks themselves dictated the direction the music took. 'In the studio we tend not to namecheck other bands or artists it is generally a case of trying to follow the song' Nick says. 'You get in that creative place and pop this or that down and the track evolves, I think that is how we all work. I know I have worked with people who say, 'Let's make this like so and so' and I am always amazed as it seems like you are cutting that creative thing right down the middle, you might as well give up and go and listen to so and so and not spend hours working on your own music. We all love music and new music, though, so I am sure we were excited about stuff while making this album.'
On the subject of new music with shoegazing hugely back in vogue and psychedelia becoming an ever-expanding genre taking on new permutations each year, are there any standout groups working in that sphere for you at present? 'We're not sure who they are as we've always loved any psychedelic bands, but I suppose now people drop shoegaze in there too' Nick says. 'Neon Indian, Youth Lagoon and (Sonic Cathedral labelmates) Younghusband are all great.'
With the three brothers all engaged on solo projects and with Slowdive recently reactivated, do you think Black Hearted Brother will be a one-off project or is there more to follow? 'We'd like to do more and I think it will happen a lot quicker next time around now that we know more about this method of making music' Nick says. 'Another advantage to touring this would be that we could do some recording on the road too. We are already bookmarking ideas for the others to attack. What is really exciting for us is we have no idea what form, sound or shape it will take on.'
As what comes beyond the EP in 2014, the plan is straightforward. 'Getting this material together for playing live, we are working it out now and looking forward to getting this out on the road' Nick states. 'I think it will take on a new dimension live. Some extra musicians, some video projections, mad lights and whatever else we come up with to make it fun, inspiring and truly psychedelic to watch BHB.'
Got Your Love EP is released through Sonic Cathedral on March 31st
Black Hearted Brother Links