Bearded's Guide To… Brighton
The sun is shining, or trying to at least, so Lydia Stockbridge reports on what's happenin' down in the south coast's musical mecca of Brighton.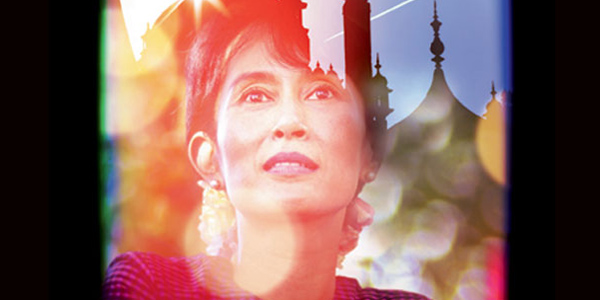 As soon as the daffodils start to pop up, Brighton gears itself up for the festival season. It all gets a bit mad round here come May, with three of the biggest events of the year,
Brighton Festival
,
Brighton Fringe
and
The Great Escape
all happening at the same time. We're not complaining, though, spring is one of the best times to visit and make the most of all those bank holidays.
Brighton Festival
, running from 7th-29th May, is being guest directed by Nobel Peace Prize winner and courageous human rights advocate
Aung San Suu Kyi
, and reflects her interests both musically and literarily. The festival has hints of themes running through different events, focusing on oppression and conflict. But that's not to say it's a sombre affair; now in its' 46th year, the Festival is an international cultural event, with many theatre, dance and musical productions making their world debuts here. Visual arts are also new to the Festival, and V.A artist
Kutlug Ataman
will be showing a specially-made piece at
The Old Market
in the opening week. There's so much going on it would be an ordeal to write it all down, so go take a peek at the website
here
.
Offering up even more culture,
The Brighton Fringe
is an ever-growing arts festival that takes place 7th-30th May. It's all about new work and fresh talent - anyone can apply to put on a Fringe event. What started off as an extra to Brighton Festival way back in 1967 has now grown into an event in its own right, and one of the biggest arts festivals in England. There's music, comedy, club nights and film nights, dance, theatre, kids shows and cabaret. One of our favourite annual events would have to be the
Nice Weather for Airstrikes
free mini-fest at
The Druids
pub on the Level. Four days of post-rock, shoegaze and soundscape joy. Take a look at the full line-up
here
.
We couldn't leave out
The Great Escape
out of the guide. The seaside's answer to Camden Crawl but with a heavy Brighton slant, The Great Escape crams 300+ artists into 30 venues around town, plus all the Alternative Escape free parties dotted about too over the 12th - 14th May weekend. In conjunction with the Brighton Festival, DJ Shadow and Sufjan Stevens will be playing Brighton Dome, DJ Shadow will be doing a next-day Q & A session too, if it hasn't sold out already, that is. Brighton lads
Hind Ear, Yaaks
(well, they're from Eastbourne but it's close enough eh?) and the wonderful
Us Baby Bear Bones
will all be playing alongside other rad acts; get your earlybird tickets while you can.
There's more musical ammo up our sleeves too. Ex-Freebutt promoter and founder of Southampton's Ejector Seat Festival, Andy Rossiter, is putting together yet more Brighton bands for you to come and check out.
The Busk Stop
is a free festival trail that sees the Brighton bands of tomorrow singing for their suppers in pubs and venues across town. Check out
www.buskstop.blogspot.com
for more details to be announced.
That's not all, folks, the Brighton-born
Playgroup festival
is back for a second year this August. Devised by promoters behind the infamous and award-winning
Blind Tiger Speakeasy Club
, Playgroup have taken their festival-in-a-club ideals and stuck 'em in a field outside Brighton. Again expect a shitload of Brighton bands, DJs, performers and eccentrics to come and entertain you.
Enough about Brighton's abundance of festivals, London label
Moshi Moshi
have been putting out challenging, if a little trendy, records for years, with Hot Chip, Architecture in Helsinki and Bloc Party to name-drop a few of the ace artists they've put out. Their Great Escape showcases have always been pretty legendary, and now in an exciting move, offshoot label
Tender Age
has set up camp in Brighton. Putting on innovative shows and events in London for a year or so, with a mish-mash of bands like
Rolo Tomassi
and
TEETH
, Tender Age's Toby Bull intends to bring this musically-passionate party to Brighton; as well as releasing a few bits and bobs too, the first of which is Seattle's hotly-tipped Beat Connection. Their clubnight,
The Happiest Place On Earth
, has already made its debut at one of Brighton's newest venues,
The Green Door Store
; setting the gold standard with emerging acts
/D/R/U/G/S
and
Cymbals
headlining, and Moshi Moshi DJs getting the crowd in the mood for dancin'; we're looking forward to the next one.
In terms of venues, there's been an influx of hot new ones coming to town, after the summer of discontent which saw the Freebutt, The Engine Rooms and New Hero close their doors. Fans will be pleased to know that
The Freebutt
is making a comeback, with the original owners, the Joiners venue of Southampton taking over, the building work is going on as we speak. Promises of a new stage, PA and lighting system too, as well as getting rid of the ruddy big pillar slap-bang in the middle of the gig room too. The launch night has been moved back due to some complications and possible altercations with the council, but here's hoping it'll be back guns blazing before too long.
The previously mentioned
Green Door Store
is an intimate new venue under the arches of Brighton train station. Open for nearly 2 months now, it's fast-becoming a favourite of the local music scene for its' eclectic mixture of nights,
Metal Mondays
with an old-school slant to it, Brighton doom-mongers
Jovian
headlined the first of many. There's also
TRIIAL
, a no-hype night of mystery, the line-up remains a closely-guarded secret until doors, with the only promise being it'll be something you've (probably) never heard before. It'll also make a change from getting a zillion spam messages from over-zealous promoters, too. Brighton acts
Fujiya & Miyagi
and
Sons of Noel and Adrian
are booked in for April alongside international hype machines
Das Racist, Tuneyards
and
Thousands
.
Brighton's newest club,
The Haunt
had a memorable launch night earlier this February, with members of the hippest bands around, Romy of the XX, Kim Ann Foxman of Hercules and Love Affair making an appearance, this is just a taster of things to come. Yelle, Mumdance and Joe from Hot Chip are just some of the acts booked in for the coming months. Brighton's biggest eighties night that praises all things pastel and power-dressed
It Is Still 1985
is back on at The Haunt too, along with rhythm and blues from the Thursday night
Fish Fry
too. There're queues all the way to the pier for this place.
We could go on, but that's quite enough to be getting on with for now. Speak soon.