The Rialto Burns - For The Asking (Gung Ho!)
Stellar, XL-sized new EP from excellent Liverpudlian post-punks, including live tracks and remixes.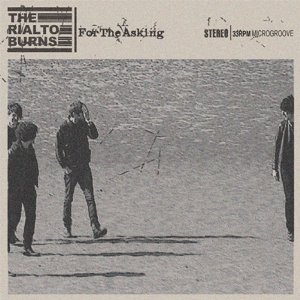 Building on their excellent live shows, the new EP from
The Rialto Burns
sees the group consolidate their position as crossover practitioners of gleaming electronica and emotive rock par excellence. The ten track affair, five new songs plus additional live cuts and remixes showcases the quintet's precision tooled electro-blues brilliantly.
Combining the gloom of post-punk, the anthemic uplift of stadium titans such as U2 with the lyrical introspection of The Cure, the band have forged their own idiosyncratic sound.
'For the Asking', constructed around a simple insistent riff and sonorous vocal evokes a world of brightly-lit subways and deserted city streets, replete with the lyrical hook of 'Stay out the lights/It's for your own good.'
'Leaning to Fight', opening with a mid-period New Order drum machine and triggered bass line hinges around a pleading lyric and bluesy guitar licks, reminiscent of early nineties 'rock' period Depeche Mode. 'Constellations' up next proves to be well titled, its see-sawing riff and stargazing vocal the equivalent of gazing up at the heavens on a clear night.
Elsewhere, the band's storming, imaginative cover of U2's 'New Year's Day', bathed in washes of synthesized strings, points to a treasured influence yet avoids imitation, re-moulding the song into something of the group's own.
The wonderful 'Radiate', concluding the studio recordings is possibly the highpoint. The peak of the band's live set, buoyed by its anthemic 'God Save Us All' refrain, the ascending riff into the chorus showcases a spectacular bit of songwriting prowess.
While one of the band's key strengths lies in offsetting the anguish expressed in Adam Chatterton's vocals against the cold electronic backing, when the band do rock out they are just as effective. The subtle interplay between the dual guitars sees the synths take a backseat as the two axemen trade riffs like Valensi and Hammond Jnr of The Strokes.
The live tracks that follow prove the band are easily capable of reproducing the same power onstage as in the studio, while the remixes demonstrate how the band's work can be reconfigured, while retaining the integrity of the original versions. A slow burning triumph of a record. (Excuse the pun)