SeaWitches: Tear Back the Sky (self-released)
Excellent second EP from Liverpool based post-punk/art-rock group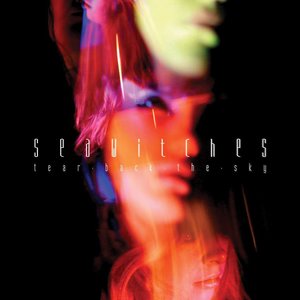 The new five track EP
Tear Back the Sky
, the second collection by folkloric titled Liverpudlian art rock
Seawitches
ensemble builds on the immense promise showcased by 2013 debut outing
Spacegun
.
Produced by rhythm guitarist Sophie Nicole Ellison, the brittle guitar lines, low-slung bass and Jo Herring's sonorous vocals are pitched crystal clear in the mix, the sparse instrumentation and generous application of reverb onto pretty much everything imbuing the tracks with a sonic impact greater than the sum of their parts.
Opening with the lush indie-pop confection '
Stars
' the deceptively upbeat jangle stands in marked contrast to the downcast lyrics, the two and a half minute gem the most immediate song in the band's compact catalogue.
Standout moment of the disc 'The Eastern' second, a mirage-like series of gradually uncoiling heat-hazed guitar figures suddenly rallies into something more pressing as the track accelerates and changes form three quarters of the way through.
The jittery post-punk rush of the
Under Milk Wood
inspired 'Black Bark' sung by bassist Laura Caldwell meanwhile leads into the stunning Joy Division inspired near-Industrial thud of 'Sleepkill'. A simple arpeggio backed with just out of earshot guitars made to sound like screeching Bernard Herman violins, the track wrings the maximum amount of tension out of the spare elements before winding down like a production line coming to rest.
Closing proceedings the desolate, hugely atmospheric 'Hum Drum' underpinned by a skipping bass figure and tiptoeing guitar line made to sound vast by the shadowy reverb, builds in intensity throughout before mysteriously dissolving into silence via a crash of cymbals.