Air Formation: Were We Ever Here (Club AC30)
Reactivated shoegazers make majestic return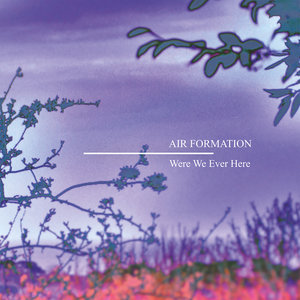 Reunited since last year via a one off live show Brighton shoegazers
Air Formation
reappear on the radar with
Were We Ever Here
a majestic quartet of new tracks.
Effectively picking up where they left off following their fourth album
Nothing to Wish For (Nothing to Lose)
prior to splitting in 2010, the new set continues the quintet's exploration of pellucid dream pop.
Founded on the contrast between the plaintive lead vocals of Matt Bartram and swirling emotional drama of the band's keyboard sated dream pop, opening salvo 'I Could Stay' sees the five piece navigate their way through stretches of calm that give way to roaring drum triggered explosions of sound, underpinned by a fuzzy metronomic bass riff.
A concise exercise in straight head motorik pop 'Last Resolve' is succeeded by 'On the Floor', a synth drenched lament that combines Slowdive and New Order at their most downbeat.
'The Wasted Days' meanwhile sees the EP reach its summit on the closing track. Surging along on a piercing guitar, the cut veers off into a hailstorm of swirling keyboard textures and frenetic drumming that draws to a close after six minutes, a highly enticing glimpse of where the quintet may be headed next.