You Said Strange: Salvation Prayer (Fuzz Club)
Psych outfit from Northern France deliver highly promising debut set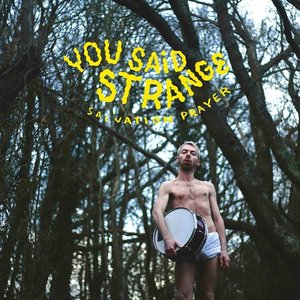 Building a reputation through live shows and a stint supporting like-minded sorts The Dandy Warhols around their native France, Normandy based astral voyagers
You Said Strange
issue their debut LP
Salvation Prayer
through venerated London-based psych label Fuzz Club. Adding to a modest but impressive genre, French psychedelia is clearly in excellent health at present its luminaries including underrated space rockers Moodoïd, the much-admired Melody's Echo Chamber and a score of acts treading the boards at recent editions of Liverpool Psych Fest (The Limiñanas, psych supergroup Aquaserge).
Produced by Dandy's guitarist Pete Holmström in the US band's hometown of Portland,
Salvation Prayer
showcases You Said Strange's material in punchy, upfront style. Tracing psychedelia from its initial 1960s origins through to the present day (cf. The Black Angels, BJM) the chiming guitar arpeggios of Brain evokes the former, paying homage to the period when The Bryds morphed from a jangle pop outfit into cosmic country pioneers. The latter is highlighted on possibly the summit of the disc, Cold Crusader which comes across as The BJM jamming with New Order, as its acoustic bedrock is overlaid with a Peter Hook-style bassline.
The only track on the LP sung in French, Tilelli (taking its title from the Berber word for freedom?) is a definite highlight, galloping along on an insistent guitar motif before switching to a slow-paced chanson mid-way through that glides along like peak-period Spiritualized. Elsewhere the aptly titled Extend is an eight-minute blowout that speeds up into an electrical storm of guitar riffs while the mantra-like Eastern scales of Get Out and the sitar-guitar riff of psych pop cut Halo prove YSS can do concise as well.
Side Two sees the focus slacken slightly, as Leave the Lord feels like more of a production showcase than a full-blown song and Just Wait feels exactly that, the penultimate track before the epic closer. Presumably the conclusion to the band's live set, final track The Way To The Holy War is inevitably the longest cut present, starting out as an exercise in Can-like motoric Kosmische that blooms into a fifteen-minute opus. A solid foundation to build on,
Salvation Prayer
sounds like the work of a band with much more to come in succeeding years. More soon please.
7/10