WIntersleep - Hello Hum (Roll Call)
Canada's Wintersleep are a hard-working and prolific band, who unfortunately just don't seem to get the press. Five albums into their career and Wintersleep continue to amble just under the radar, waiting patiently to break through at any moment. Some have boldly compared them to Band of Horses, and having toured with Pearl Jam and Paul McCartney, they have certainly had their share of opportunities to become a household name and play to large mainstream audiences. But it seems that Wintersleep are yet to make a definitive album like Cease to Begin. However, having won a Juno award in 2008 and also having made appearances on Late Show with David Letterman, it's clear that Wintersleep have made some impact on the indie world, even if that impact is yet to resonate deeply with its audience.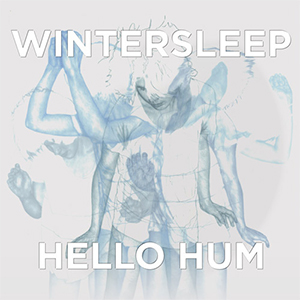 The Nova Scotians' latest offering,
Hello Hum
, is immediately easy to wrap your ears around – hooking the listener in with an epic opener, deep thudding drums, and pretty piano ornamentations, 'Hum' is strong and sets the tone of the album fittingly.
Album single, '
In Came the Flood
' (sure to become a hit at
Wintersleep
shows amongst fans), boasts tapped guitar riffs that the Kinsella brothers would be proud of, rich harmonies and driving percussion while '
Nothing Is Anything Without You
' is a life affirming and satisfyingly stop/start song, with layered vocal melodies that blend and weave around each other effortlessly and beautifully.
Initially, '
Permanent Sigh
' frustratingly lacks the originality of previous tracks, but then, as if from nowhere, the song explodes into a haunting, string ornamented, choir-laden affair; lead singer
Paul Murphy
repeating the sardonic lyric: "…all jokes aside…" Musically, this section is a pop highlight and all is immediately forgiven.
An essence of Americana colours the melody of '
Saving Song'
– it is sombre and percussive, mournful and pretty. However, it is awkwardly placed in the track listing, and the result is that the overall feel of the album becomes fractured. Perhaps drawing influence from guitar chuggers Interpol, and moreover vocally from
Robin Pecknold
, '
Rapture
' is steady and self-assured. Whereas '
Unzipper
' is at first joyful and jubilant – a
Springsteen
-esque rock hit with a unique and understated vocal – although towards the latter part of the song it grows, rather disappointingly, into a repetitive stadium rock throwaway B-side.
Electronic synth-driven '
Someone Somewhere'
is repetitive and schmoozy, which unfortunately takes away from the stronger parts of the album. The clumsy fusion of organic power pop and synth sounds (that are reminiscent of a game of laser quest) is slightly cringe-worthy, but there is also a lot to like here. '
Zones
', another fairly wishy-washy confusion of a song, serves to pick up the pace slightly, and it is certainly not unpleasant but perhaps just not as forward thinking as earlier tracks.
Hello Hum
is not a courageous album, but it is incredibly sonically pleasing, and offers hooks-a-plenty and genius musical moments of epic proportions. Sometimes it borders on tedious, and parts of songs feel slightly lacklustre, but there is far more good than bad here. The sentiment that
Hello Hum
leaves is akin to receiving a long hug from a distant Uncle – comforting and heartening, yet slightly awkward and unnerving the longer it goes on.