Wildbirds and Peacedrums - Rivers (Leaf)
Recorded over a week in Iceland, the country's cold, wet and empty landscape comes biting through.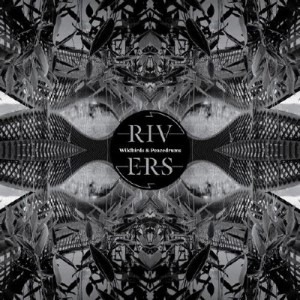 Wildbirds & Peacedrums, the Swedish two-piece minimalist psy-folk band, release two EPs this year:
Retina
, and
Iris
.
Rivers
is a product of the two, combining the two 5-track offerings into one, very haunting, but very beautiful aural feast.
Rivers
is the third record from Mariam Wallentin and Andreas Werliin following 2007's debut
Heartcore
and the next year's follow up,
The Snake
. The record can be seen as a reflection of the time spent since
The Snake
, continuingly touring, including a trip to the US and a spate of European festivals,
Rivers
, feels like the response to a long year or two. Much darker and lingering than before, it's easy to be so emerged in Wallentin's vocal, that you don't notice when Weliin's percussion drops out completely in tracks like 'Fight For Me' on the
Retina
side of the album.
Though released as two separate offerings and released as a double CD here, they were only released a month apart, and as such the record still feels like a complete body of work, both halves connected by reoccurring themes of water and sight.
It's easy to hear where the majority of the album's subject matter and atmosphere comes from: it was recorded over a week in Iceland, and the country's cold, wet and empty landscape comes biting through in the form of the more percussive instruments used more extensively on the
Iris
side. The most noticeable one being the steel drum, which highlights the songs of the second half – though, with just minor criticism – does feel slightly wandering and intrusive in some places.
Overall,
Rivers
is a great record, split apart by the bluesy gospel ambience of the
Retina
, but pulled together by the tighter rhythm section and focus of
Iris
.
This is another solid release from the pair, which shows a developing sound, but from two people very comfortable with the variance in sentiments flowing through the record. They're willing to take risks, and the best thing about this band is that they're highly prone to succeed.