White Manna - Pan (Cardinal Fuzz)
Californian quintet issue excellent fourth LP of heavyweight psychedelia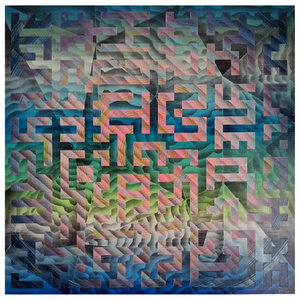 With four albums in as many years, California psych heavy hitters
White Manna
have established a niche for themselves as estimable space rock voyagers.
Making themselves known to audiences via their mesmeric live shows, their midnight performance at the 2013 Liverpool International Festival of Psychedelia saw as many people dancing as those nodding hypnotically.
Taking its name from the Greek deity defined as 'the God of the wild and rustic music',
Pan
is imbued with expansiveness inspired by the wide open spaces of the band's Northern Californian base, 'the trees, beaches, and open spaces where we live are all integral parts of our approach to music' guitarist David Johnson explains.
Recorded in analogue, the LP is shot through with the feel of being tracked live, possessing the same intuitive atmosphere of the group's shows, where the music rises and falls seemingly through band members' telepathy.
While the six tracks here have the impression of being marinated through hours of improvisation into slabs of spiralling psych rock, the tracks are far from mere practice room jams but something more tightly constructed.
The curtain raising title track begins the LP at considerable velocity, with a nod to the band's San Francisco forbears, hurtling along like an tougher updated version of proto-punk outfit The Seeds
The succeeding 'Dunes I' and 'II' defly showcase the two sides of the band, the first a clattering Stooges inspired garage rock assault, while its sequel is a slowly uncoiling organ keys-led groove with a blazing lead guitar figure towards the close.
Opening the side two 'Evil' is one of the most immediate cuts in the band's cannon, switching between motorik verses and all-out organ swamped refrain, '
If I you call my name/Evil/Evil
', one of the few times the band indulges itself with a chorus.
Updating Hawkwind's space rock explorations for the 21st century to dazzling effect, 'Beta Travelers' proves the equal of Dave Brock's crew, where a guttural guitar and relentless drum tattoo provides the hardscrabble foundation while
Space Ritual
-esque audio FX swirl overhead.
Swirling in on waves of white noise that simulate crashing waves 'Eshra' provides the vast closing stretch. The band's longest track to date, almost breaking the twelve minute barrier, the cut builds for almost three minutes until the introduction of the drums, where an insistent chord pattern gives way to a surging instrumental trawl that draws to a close in heat hazed guitar figures and rumbling tom toms in what feels like only a fraction of the running time.
A collection that will doubtless take on planet sized dimensions live, in something of a vintage year for the psych form White Manna have more than ensured they remain psychedelia's top table.