White Manna: Dune Worship (Holy Mountain)
Californian psych/space rockers deliver stunning second LP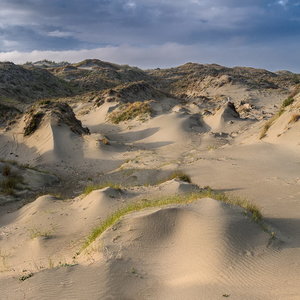 Appearing at the second Liverpool International Festival of Psychedelia in late September Californian natives
White Manna
stepped out on to the stage at midnight and turned in one of the highlights of the entire weekend, no mean feat considering the fierce competition on the bill.
The Golden State collective, a formidable assemblage of Cousin Itt hair, equally impressive beards and low slung guitars instigated mesmeric head nodding en masse as scores of patrons began dancing like attendees at a 1971 free festival headlined by Hawkwind. The slowly unspooling riffs, incantatory vocals and weaving undercurrents of white noise that make their way unhurriedly across tracks that range from five minutes to double that length played that night are brilliantly captured on the band's second LP.
The non-more aptly titled
Dune Worship
, brilliantly evoking the mantric side of psychedelia/space rock comprises six sprawling cuts that intertwine motorik grooves, coruscating garage rock guitars, keyboard swells and circling feedback. With the LP title neatly echoing record label moniker, the estimable underground outfit Holy Mountain, where the band share matrix numbers with Wooden Shjips and Moon Duo, the description of the group's music as 'devotional' on their Bandcamp page makes perfect sense.
Picking up from the marker established by last year's excellent eponymous debut set, opening blast 'Transformation' sets things off at a gallop as a clanking guitar riff augmented by classic
Space Ritual
keyboard swirls underpinned by a Motown drumbeat swiftly gets proceedings underway. 'X Ray' second is the most stripped down cut present, as a massively reverbed guitar figure overlaid with liquid basslines, slowly rolls along, centred round lyrical hookline '
I said the truth is in your/Is in your mind
'.
Gearing up for a journey into the further reaches of the cosmos, the mammoth 'Illusion of Illusion' proves the band can create maximalist grooves up there with kindred spirits Carlton Melton, as a planet sized vista of heat-hazed keyboards, noises seemingly heard at a deep space monitoring station and cymbal washes unfolds over ten minutes. 'Ascension' that follows is an intriguing musical hybrid, splicing the trebly aggression of garage rock with the expansiveness of psychedelia, the song quietly drawing to a close via a beatific coda.
'I'm Comin' Home' bears the hallmark of The Doors at their most far-reaching (think 'When the Music's Over') with the vocals pushed up in the mix, the rhythm section engine room powers along and the keys, guitars and FX battle for supremacy above it. Concluding with the epic Can-esque 'Solar Returns' the vocals broadcast from some distant shore cut through the dense instrumental fog of relentless Kosmische motifs and full throttle lead guitar lines that abruptly comes to a halt before rolling into a languorous closing stretch.
Manna from Heaven? Most certainly.