White Hills: So You Are… So You'll Be (Thrill Jockey)
Space rock titans impressive seventh outing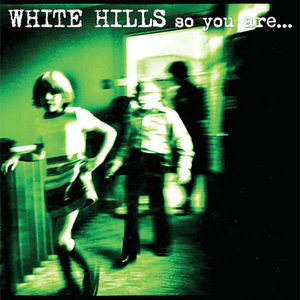 An interstellar conglomeration of space rock, psychedelia, prog and Krautrock,
So You Are... So You'll Be
sees New Yorkers
White Hills
deliver their seventh album in almost as many years.
Whereas last year's acclaimed opus
Frying On This Rock
conjured up images of sun baked desert rock, the present album trades in being tethered by gravity to aim for a less earth-bound destination.
Piloted by guitarist/vocalist Dave W, along with Ego Sensation bass/synths and Nick Name drums, (the IRS presumably knows them by slightly different monikers)
So You Are...
reels in the expansive sprawl of earlier releases to deliver their most concise set to date
The band's seventh official long player (discounting split LPs and CD-Rs) the disc is the second to be issued by estimable US label Thrill Jockey and is recorded by Martin Bisi, the engineer behind the desk for Sonic Youth's greatest album, alt. rock totem
Daydream Nation
.
Opening with 'InWords', a buzzing electronic fragment reminiscent of dial-up era internet booting up that reappears twice on the album, the monumental 'In Your Room' surges into life.
Tumbling along on a Velvet Underground riff sleazier than a vintage News of the Screws headline, the robotic vocals give way to simple delay pedal figures and otherworldly Theremins, the track is space rock writ large.
Following rippling synth-led instrumental 'The Internal Monologue' the title track sees the trio switch focus to push the band's guttural axework to the forefront.
An endlessly unspooling Stooges-esque motif powered by hissing, spitting drums that zooms towards a beatific coda of guitar and what at least appears to be violin, the mixture of tension and release is one explored throughout the album.
Kicking off Side Two, 'Forever in Space (Enlightened)' commences with a clear nod to space rock pioneers Hawkwind, the opening stretch a doppelganger for the beginning of the Ladbroke Grove crew's landmark live LP
Space Ritual
.
A ferocious garage rock banger recorded at tinnitus inducing volume, the cut demonstrates the band have lost none of their ability to turn out seething white noise rampages.
The satanic groove of 'Rare Upon the Earth', a fearsome wah-wah pedal excursion into early Black Sabbath territory underpinned with bass direct from Hades follows next, heading towards the fade out groove with noises that sound like field recordings from the flight deck of the
Nostromo
.
Instrumental closer 'MIST Winter' founded on a bedrock of NEU-esque vintage electronics, provides a restful closer, the concluding flurry of synthesized strings echoing like a distant chorus.
An exacting mixture of sheet metal guitars, mesmeric grooves and slivers of pulsating electronica,
So You Are...
again shows White Hills to be Kosmische Kuriere (Cosmic Couriers) of the highest order.