Weaves - Weaves (Memphis Industries)
Ebullient Canadian alt rock troupe deliver highly promising debut LP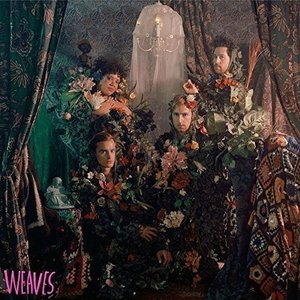 A location that has constantly informed alternative music over the past decade (Arcade Fire, Besnard Lakes, Suuns), wayward alt pop quartet
Weaves
are the latest band to emerge from Canada.
Like Black Francis and Bob Mould if they had been raised on a diet of
The Archies
and tunes from
The Muppet Show
, the four piece counterbalance indie rock jaggedness with day-glo pop impulses. Innovating on familiar indie rock tropes, lead singer Jasmyn Burke can switch between quirkily hiccupping verses and strident choruses, best exemplified on superlative 45 One More, which somehow combines breakneck velocity, skewed guitar lines and infectious melody in one package.
Led by a guitar line that wobbles like a cassette ravelling up, Birds and Bees calls peak period Flaming Lips to mind, while closing Stress is almost a complete 180 degree turn as Burke turn in an ear-balm vocal that nudges the track into torch song territory.
Despite the sometimes deliberately off-beam playing the quartet clearly have musical chops in abundance, guitarist Morgan Waters dexterously threading melody lines across tempo shifts on new single Coo Coo and Sentence. The no-nonsense bass pulse and slamming drum sound of Shithole and Two Oceans evokes Pixies gems Bone Machine and U-Mass, while the wonky axe lines and softly pattering rhythm track of Eagle recalls Pavement at their mellowest.
Not quite everything here works, Two Oceans is too messy to have any real impact while recent single Candy is surprisingly, one of the weaker links here. Standout track Human alternating between thundering verses and light limbed choruses is an exacting exercise in hold and release dynamics while Sentence skilfully combines African highlife riffs and percussive New Wave clattering.
'
This is just the beginning of what I want to say
' Burke sings at the top of the album on brilliant opening track Tick, and as an introductory address
Weaves
is a highly successful one. One of this year's best debut LPs.