We Are The Physics - Your Friend, The Atom (This Is Fake DIY)
For the uninitiated, We Are The Physics are probably Scotland's most demented bundle of science, history and sporting icon infused manic punk rock energy. Not that it's a huge category, but We Are The Physics have the market pretty much cornered – particularly with the release of their second album, Your Friend, The Atom.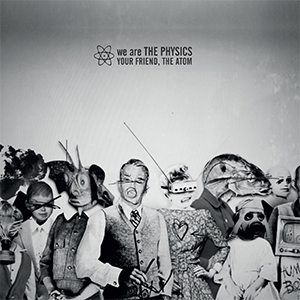 If the tasters served up by singles '
Goran Ivanesivic
', '
Applied Robotics
', and most recently '
Napoleon Loves Josephine
' weren't enough to sell you on the frenetic energy of
Michael M and co.,
you'll undoubtedly leave the album convinced – not at least because of the bumper fourteen-track listing. It's no small wonder that it's been four years since the release of the band's debut,
We Are The Physics Are OK At Music
, because the pace of this is enough to drive any other band to destruction.
If it were possible, the band have managed to become heavier than before on this new release. While the first album veered very much on the side of art punk, this new album embraces the louder side – opening track '
Go Go Nucleo -> For Science
' is laden with thundering drums and thrashing guitars, a trend that is prevalent throughout the entire record.
'
There Is No Cure For The Common Cold So Don't Expect A Cure For Cancer
' is where the album really kicks it up a notch. The song neatly splits the album in two, slowing the pace down (just a touch though, don't worry) and providing one of the highlights of the album. Despite it's more laid back pace, the track still maintains all the hallmarks of a
We Are The Physics
classic – computers beeps and whirs,
Michael M's
frantic vocals, the driving instrumentation.
We Are The Physics Are OK At Music
was a great debut album – the problem always comes with the follow up.
Your Friend, The Atom
is, essentially,
We Are The Physics
snorting with derision at any idea that the recording of this album was a difficult, troubling experience. The music is fast, frantic, and most importantly of all, tremendously fun – please don't go changing any time soon,
We Are They Physics.