Waxahatchee – Cerulean Salt (Wichita)
Katie Crutchfield returns to serve up another slice from her delightful alter ego Waxahatchee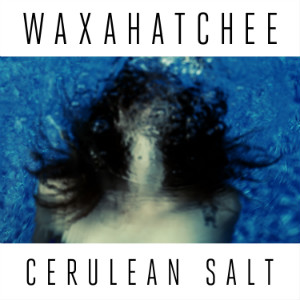 Hailing from the muggy pastures of Alabama,
Waxahatchee
– the solo-project pseudonym of indie noble,
Katie Crutchfield
– has never had music too far from her fingertips. The 24-year-old, now based in Philadelphia, has swanned through bands like
P.S. Eliot
,
Bad Banana
and
The Ackleys
, sometimes with her twin sister, sometimes without. Generally, the overall timbre of these collectives is similar to the output of Crutchfield's lone-wolf endeavour: it's tinged with folk, roughly hewn punk sensibilities and oodles of Southern lo-fi (think
Wavves
raised amongst balmy banjos and the mosquito-thick Gulf air). There's a taste of '90s slacker-rock/post-grunge, or whatever you want to call it, and also of the origins of emo. Think very early
Jimmy Eat World
.
Cerulean Salt
is Waxahatchee's second trundle into the forest of LP-dom. After a lauded, riveting set at SXSW back in March, she shot to the forefront of people's minds – she'd never been too far from the action, but her set was so vital that interest for her then-upcoming sophomore effort reached fever pitch. Cerulean Salt employs sparse instrumentation, often just an electric guitar and Crutchfield's velveteen vox, and rather than opting for big hooks or sing-a-long choruses, it instead focuses squarely on the calibre of Crutchfield's storytelling and how she can manipulate the done-to-death genre using her God-given talents.
'Peace and Quiet' has distinctly American country-grunge chords and Crutchfield's mouth-full-o'-marbles drawl. It's infectious, despite the melange of messy strands; it embodies the layabout schtick. Everything slovenly lolloping and half-heartedly slumping into a tangled pile might seem like a dire quality in a track, but it works flawlessly here – Crutchfield's pipes are, though blasé and imperfect, captivating – and the result is a slacker anthem that should find a cosy home in an Cera-esque indie rom-com or this generation's
Freaks and Geeks
.
One of the rare occasions where a Waxahatchee cut features a full-band set-up from the off, 'Dixie Cups and Jars' is a blissful stroll into the dusty highways. There's some sublime imagery: "Makeup sets on your face like tar/ the champagne flutes poorly engineered," as her lips weave a tale of a tragic wedding. On 'Coast To Coast', perhaps the most straight-up 'rock' track on the album, Crutchfield toys with buoyant riffs and synth chirrups as she sings (apparently) of the paranormal call-in radio show of the same name, and "Blood on the back seat." It's much darker than the moreish honeyed licks imply. Country-flecked 'Lips and Limbs' jangles away with summer abandon; it's a sunny, school's out track, constructed for listless pleasure and the kind of time wasting you only get to do when you're a teenager. Tambourines, jauntily swung rhythms, slide guitar and simple-yet-strong guitar sequences meld to form one of the catchiest slices on Cerulean Salt.
Katie Crutchfield has a firm grasp over the power of the electric guitar. She does, on occasion, inject bass or drums into the mix, but largely this is one woman and her guitar, spinning yarns and basic earworms. There's no showboating here, everything that Waxahatchee spills on Cerulean Salt is honest, grazed-knee raw and genuine: from the fret buzz on 'Blue Pt. II' to the doo-wop-lite of 'Brother Bryan'. It lacks pomp, glitz and a pop veneer, which makes it a refreshingly bold listen – there's no pretence to slog through, just a myriad of unique, intimate anecdotes backed by earthy chord structures. It's a very personal record – she includes family and friends as guest musicians – and there's a sense that the record is more of a private journal than a product to be sold; nonetheless, this is a record, and a fantastic one at that.