VA - The Psychedelic Sounds Of The Sonic Cathedral: A Tribute To Roky Erickson (Sonic Cathedral)
A trippy tribute to Roky and The 13th Floor Elevators, this compilation with moments of shameless retro enjoyment makes up in cool factor what it might occasionally lack in quality.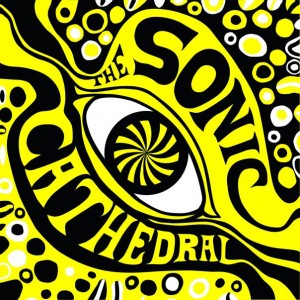 If you've ever seen double while listening to Jefferson Airplane, tripped balls to the sound of The Zombies, or oddly enough, simply enjoyed the surf guitars of psychedelic rock on a barmy evening, then this compilation – a tribute to Roky Erikson of The 13th Floor Elevators – could be the soundtrack to the summer that you've been waiting for.
The 13th Floor Elevators were perhaps the most influential, and probably one of the least credited (along with The Misunderstood), of the sixties psychedelic bands. They largely owed their sound - and their short lived career - to lead singer Roky Erikson, and
The Psychedelic Sounds of the Sonic Cathedral
is an exploration of his free spirited music. The album is a collection of covers by The Black Angels and Kevin Shields, amongst others, and it makes up in cool factor what it might occasionally lack in quality.
That's not to say that there aren't some humdingers – 'Splash 1 (Now I'm Home)' is a cover by Sarabeth Tucek, who combines lush overlayed vocals with a simple guitar riffs which oozes the sound of the sixties. Elsewhere, Darker My Love perhaps capture the true essence of Roky Erikson most faithfully with their take of 'She Lives'. This is an awesome rendition that just might compel you to read a passage by Hunter S. Thompson out loud while donning stupid glasses.
If nothing else this is a record which explores the interesting relationship between pysch-rock in the sixties and the British shoegaze movement of the nineties. 'Tried to Hide' by A Place To Bury Strangers boasts a beat of New Order-esque proportions and sugary, over mixed vocals, which sound almost as awesome as The Jesus and Mary Chain.
With their colourful musical landscapes and abstract lyrics, Erikson and his contemporaries carved the sonic trajectory which later groups would emulate using superior guitar pedals and much more moping. Black Acid's particularly nu-gaze-esque rendition of 'Unforced Peace' could be a song by a computerized version of The Velvet Underground, and it's all the better for it.
Kevin Shields' appearance is in fact one of the least sonically interesting moments. He's a special guest on Le Volume Courbe's contribution, a mellow affair which is in fact more reminiscent of The Moldy Peaches.
For pure shameless retro enjoyment, a stand-out track must be 'Reverberation' by the Strange Attractors - "Liberation, Reverberation" they yell, capturing the sentiment perfectly in a total of nine syllables. That moment is narrowly eclipsed by sixties paranoia - The Black Angel's cover of 'Roller Coaster' is a live recording with Erikson himself on vocals: "You've got to open up your mind and let everything come through," - a timeless proclamation you'll agree.