V/A - Isvolt (Robot Elephant)
Another overhyped, spurious sub-genre, or the next big thing? The blogosphere is split over 'witch house', the name that Houston's Disaro Records has given to a pretty disparate bunch of artists making dark, druggy and distorted electronic music.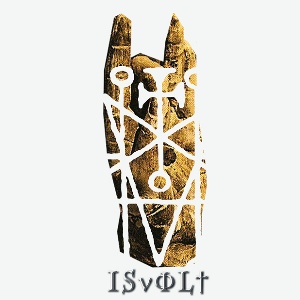 While some of these tracks have a clubby edge, this is more Salem Witch Trials than Todd Terry. Feelgood it ain't – unless you're a serial killer. It's chillwave's older brother… and it's gone over to the dark side.
Ominous and creepy, this is dysfunctional, alienated music – conjuring up images of occult dabbling, horror films and drug psychosis. It should come with a warning: unless you're exceptionally sturdy of psyche, do not listen to in the dark or when stoned, or you will get the fear. Tracks like
Mater Suspiria Vision's
disturbing circular chant 'Ritualz of the Crack Witches' aren't for your average podium bunny, that's for sure.
Taking doomy 80s synth-pop as its raw materials, witch house slows the pace down and adds layers of distortion, unsettling movie samples and tinny drum machines. Largely instrumental, any vocals are spoken, chanted or whispered, rather than sung.
The more pedestrian tracks, such as
//TENSE//
's 'Versus Man', aren't too far away from the industrial goth of the 80s and beyond. However, the better stuff here goes much further out. Ritualzz's alarming opener 'Misery Walk' is truly scary played loud, while Horse McGyver's super-grubby 'Nod' conjures up a crack-house somewhere, its denizens too far gone to get up and change the record.
There's a surprising amount of variation here. White Ring's 'IxC999' combines sinister synths, tinny drum machines, whispered vocals, gunshots and whistling with surprisingly catchy results - like the witches in Macbeth in musical form. And an unexpected dose of camp comes in the form of
Modern Witch
track 'Your Life a Movie'. This 'list song' is like a Brett Easton Ellis book in music form, blank, coked out, hip and empty – "Julia Roberts smiling… flavoured mineral water…"
The tone lightens on occasion.
Fostercare
's 'Cold Light', with its wobbly synths and gathering momentum, is surprisingly uplifting goth-trance (much better than that sounds, thank God). And closer 'Nectarine', by Raw
Moans, starts off as an only averagely mashed-up 80s ballad then mutates into rather lovely woozy R'n'B.
This is genuinely dark, often avant-garde music made by people on really bad drugs. Many will think it's a depressing soundtrack for fucked-up Goths - and they might well be right. But, in parts, it's one of the more innovative and forward-thinking records of recent times. Just don't switch the light off, people…