Twin Peaks: Urbs in Horto (Communion Records)
Chicago alt. rock quintet showcase their live firepower on a hometown recorded double LP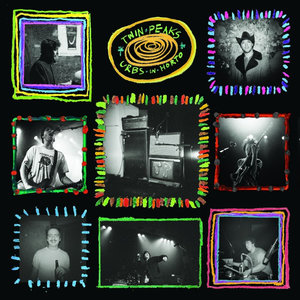 An underused format in the present age compared to its 1970s heyday, live albums can provide a highly effective resume of a group's career to date. Typically idiosyncratic of an outfit who have done things the old fashioned way, logging thousands of miles on the gig circuit, Chicagoan alt. rock mavens
Twin Peaks
have amassed the best moments of their three album catalogue on double vinyl set
Urbs in Horto
.
The move makes perfect sense given that two of the group's principal influences The Rolling Stones and The Band are famed for their live output, with the former issuing over half a dozen live discs and the latter arguably reaching their zenith with with the elegiac
The Last Waltz
(OK, it's better known as a film than an LP, but stretch a point).
Recorded over three nights last Christmas in the quintet's beloved home city, the 20-song set showcases Twin Peaks' ability to pull off the trick of somehow sounding focused and loose simultaneously. Tracked to one-inch reel to reel tape, the racous performances demonstrate the 10,000 Hours Theory clearly holds water. The second time a 'Peaks album has referred to their hometown (
Wild Onion
is the translation of Native American word shikaakwa where Chicago was derived from), 'Urbs in Horto' translates to 'City in a Garden', a slogan adopted by the conurbation in the 1830s.
While the pogo-ing likes of Boomers and Flavor are present and correct in the tracklist, where the five-piece really score are on the lightly skipping rhythms of 1960s inspired pop gem Telephone, brethren celebrating ode My Boys and alt. country canter Getting Better, all of which hang together beautifully.
Cold Lips and Good Lovin' are brilliantly Stones-y ballads, while Gram Parsons inspired cut
Sticky Fingers
' Dead Flowers, dedicated to Keith Richards' on his 73rd birthday is sped up into a power pop rush. Paying homage to local influences fellow Chicago natives Today's Hits are covered on What Up, Dawg?, while Stain showcases how well the quintet do head-in-hands morning after regret and Wanted You and Keep It Together showcase the Beach Boys' indebted harmonies.
The absence of garage rock banger I Found A Way meanwhile possibly indicates the group's desire to move into different pastures, as exemplified by 2015 LP
Down In Heaven
(
review
), which was principally influenced by The Bands' oak-aged Americana. That said, one of Twin Peaks' finest heads-down rockers Strawberry Smoothie provides an exhilarating set closer before a close harmony piano piece bids farewell.
Twin Peaks UK Live Dates:
15th July – Latitude Festival, Southwold
16th July – Citadel Festival, Victoria Park, London