Twin Peaks: Down in Heaven (Communion)
US power pop quintet deliver stunning third album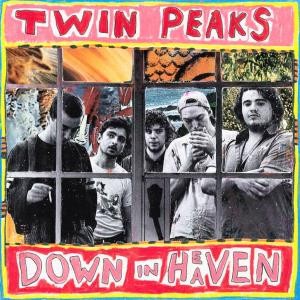 Following the ragged melodicism of 2013 debut
Sunken
and the following year's storming
Wild Onion
Chicagoan alt rock five piece
Twin Peaks
return with a third helping of fizzing power pop.
Dialling down the velocity of previous LPs, the band's love of
Pet Sounds
era Beach Boys and The Band's magisterial debut
Music From Big Pink
is evident here in the enriched instrumental palate, with embellishments from brass, mandolin and lap steel.
Recorded in the rustic surroundings of rural Illinois the LP is imbued with the relaxed pace of being outside the city, the beautifully played slower tracks prove that the band can create ballads minus any overblown bluster with Wanted You and Cold Lips possessing the same swaying energy as The Stones' Beast of Burden and Fool to Cry.
The classic pop references surface elsewhere in You Don't whose vocal melody is vaguely reminiscent of Smokey Robinson standard Tracks of My Tears while the bleary morning after recollection of Heavenly Showers calls
Nashville Skyline
era Dylan to mind.
The sunny Californian pop of My Boys and the cantering Getting Better showcase the Illinois crew's mellower direction, in contrast Keep It Together rolling along on a
Sticky Fingers
esque brass augmented riff summons up the narcotic goddess of Sister Morphine '
She's here to set you free/She's got that something that could put you at ease
'.
Sounding very pleasantly akin to late 1990s era Dandy Warhols recent single Butterfly and the narcoleptic haze of Stain hinge on anthemic choruses while fellow 45 Holding Roses maintains the quintet's run of excellent singles. The brass and jangle piano accompaniment to Lolisa diverts into
Sgt. Pepper
style baroque pop while the mildly dissonant bad trip Have You Ever ventures into full blown psychedelia.
Achieving its destination easily, with the Chicagoans going up another level in the process, to follow the album's logic Twin Peaks are currently in Utopia looking up at the rest of us, effectively.