Touché Amoré – Is Survived By (Deathwish)
Genre straddling LA band release game changing third album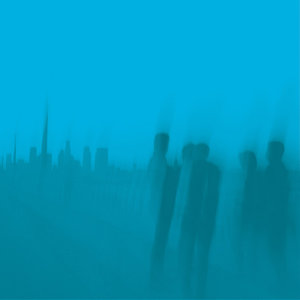 Second album
Parting the Sea Between Brightness and Me
saw LA band
Touché Amoré
progress from 'much-loved US hardcore band' to internationally influential.
The California band transcended the pigeon hole of hardcore and carved themselves a new corner within which to present their new breed of the genre.
Since then, 'post-hardcore' is a label often given to Touché Amoré. This pretty vague tag basically says, 'Sure, it's derived from hardcore, but it also has something else.' Well frankly, Touché Amoré have bags, buckets and spades of something else. They are a genre-bending force, paving the path for a wave of melodic post-hardcore bands and bursting out of the bubble-wrapped scene in an explosion of colour.
Whether or not it was a purposeful decision, they spaced the release of each album out evenly, spending two years between each to write, record, and produce their next work. The result is each of their albums are considered and never sound rushed, they're not playing up to the pressure of the industry, and this is reflected in the craftsmanship of the songs. Despite this, vocalist Jeremy Bolm still feels the weight of the music world on his shoulders on latest LP
Is Survived By
, wondering what his legacy will be and declaring boldly that he '
Won't fake what is expected to succeed with album three
'.
'Just Exist' and 'To Write Content' set the melodic precedence for the rest of the album. The contrast of Bolm's ballsy yells and the ever-moving harmonious guitars is glorious. Distant shrieks and crashing drums accompany the story of an exchange between Jeremy Bolm and Manchester Orchestra's Andy Hull, a captivating anecdote that sees Bolm offer advice to Hull; '
So, expose all your secrets/To move units/Display your weakness/You might spend some years alone/For the price of forgetting your home/Expose what hurts you the worst/The exchange deals a handsome return (are you in?)
'
Catchy as hell riffs, motifs and breakdowns run throughout the album but none more so than frantic guitar driven track 'DNA', where Bolm breaks free from the cycle of living vicariously and vows to 'start living for me'.
'Harbor' employs a steady and satisfying bass driven mid-section before blowing up into a thick and weighty slather of prog-guitars soaked in reverb.
Elsewhere double-time panicked punk meets screamo track 'Kerosene' is another feat of amazing production from Brad Wood, a producer whose credits include Smashing Pumpkins and Sunny Day Real Estate.
Prog-rock belter 'Non-Fiction' featuring backing vocals from Balance and Composure's Jon Simmons offers a change of pace. Opening with a fragmented drum and beautiful dreamy guitars that exude Mogwai, Explosions in the Sky, and all their equivalents, the track slowly builds into something more recognisable for Touché Amoré before exploding into following track 'Steps' in the blink of an eye.
The vocals are a complimentary addition towards the end of 'Non-Fiction', echoing in the distance before taking the reins on 'Steps', as Bolm delivers the most powerful vocal of the album. Desperate, jagged and raw, his thick shrieks pack a punch, '
So overcome and become one
' rings out meaningfully over the chunk of instrumentation. The latter half of 'Steps' mirrors the pretty opening riff of 'Non-Fiction', breaking down and collapsing into an exhausted heap.
Title track 'Is Survived By' almost serves as a summary of the album in its variety and shape, it's a constantly moving beast, with sorrowful moments, sarcastic moments, and then a hugely euphoric and hopeful long outro. Bolm takes the opportunity to say thanks, referring to himself as a 'hack.' The song echoes the sentiment of the opener, discussing themes of legacy. In contrast to the feeling of uncertainty and pressure that envelopes 'Just Exist' however, this time it almost feels like he's got it figured out…and he knows what he'll be remembered for in the end; '
So write a song that everyone can sing along to, so when you're gone you can live on, they won't forget you
.'
Musically,
Is Survived By
is a phenomenal piece of work, a game changer in the world of prog-post-melodic-whatever-hardcore, with reckless yet carefully constructed riffs, bracing and inventive drums and considered dynamic execution. Contrastingly the album is lyrically almost written like a raw stream of consciousness albeit far more accessible than if it actually was, it's like reading Bolm's diary in the form of poetry.
The album is littered with passionate lyrics that are sure to resonate deeply with fans, whilst the rest of Touché Amoré have more than succeeded in creating a breed of heavier music that is going to open up the genre to new listeners.
If Jeremy Bolm really was hoping to make a record to be remembered by, then I would like to take the opportunity to assure him - he absolutely has.