Three Trapped Tigers - Route One Or Die (Blood and Biscuits)
Long awaited full length fails to disappoint.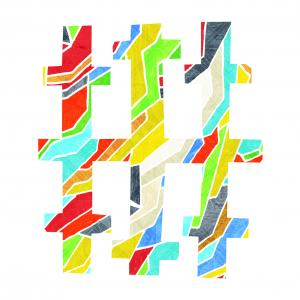 Having released three consecutively-numbered EPs over the last few years,
Three Trapped Tigers
have finally made the leap to an album. Readying themselves and growing together over the ages, this record makes the EPs feel like they were just sketches on the road to this goal – works in which they practiced the techniques that set them apart.
Fire it up and the guys state their claims in the first minute. A patter of percussion leads into a speedy guitar sequence which gives way to blocks of bass separated by short, stifled squeals and you've got it all – inspiring technicality, tonally-free melodies and lead-heavy riffs. 'Cramm' goes on in much the same fashion, breaking only for a section that sounds like hand bells in a cathedral before jettisoning back to the main theme rounded off by a hectically unresolved coda.
This mix of cave-dweller atmosphere against sci-fi synths against headache-inducing freneticism is what
Route One or Die
is all about. Providing most of the third element, drummer Adam Betts barely gets a chance to stop. Whether it's the tribal tom-bashing that starts 'Creepie' or backing up the massive riffs of 'Drebin', Betts comes out on top form with inhumanly fast rolls and synchronised rhythms that will make drummers the world over weep.
The aforementioned 'sci-fi synths' are not to be taken lightly either. The group are resourceful with their synthetic instruments and rarely do you hear a sound that would slot into another band's repertoire. Take 'Magne' for instance. With soft attack violin-like sounds ushering in its arrival, it quickly adopts a fuzzy bassline, but the point about these sounds is that they're nothing very new. A lot of them sound like they could be from eighties sci-fi films but it's the fact that the Tigers make them work that is fascinating. Not once do they come off as cheesy and this is most likely due to them being so off the beaten track for current electronic groups.
It is this fearless experimentation that Three Trapped Tigers have been allowing to happen for previous years. It is this that makes
Route One or Die
a culmination of all their efforts and a record that should be at the top of any instrumentalist's 'must-listen' pile. The record finishes off with 'Reset'. With an oscillating bleep that sounds like it's straight out of Forbidden Planet, the band build the sound higher and higher until all of a sudden the whole thing halts halfway through a ...
Three Trapped Tigers Links