Three Blind Wolves: Sing Hallelujah to the Old Machine (Instinctive Raccoon)
Grunge inspired Scottish quartet fail to ignite on debut album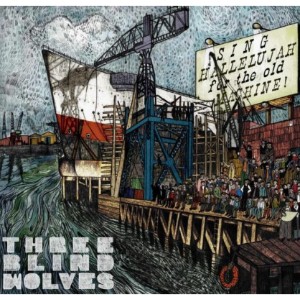 By all accounts, Scottish four-piece
Three Blind Wolves
are a storming live band, and they clearly have their hearts in the right place (the album cover and title seem to hymn the days where there were actually jobs for your average working man). However, while it starts promisingly, their debut album doesn't really pull up any trees.
Sing Hallelujah to the Old Machine
is a schizophrenic beast. While a few tracks bear witness to their earlier country and folk influences, the majority sees them attempting a fusion of
Zuma
-period Neil Young and Crazy Horse and early 90s alt-rock (their Soundcloud page even features a respectable cover of Young's anthem 'Thrasher').
The slow-to-funereal pace of the former is combined with the bluesy 'I mean it man' vocals of rockier grunge acts such as Pearl Jam, and the odd moment of noise-pop guitar dissonance. But the serviceable vocals lack the personality to make these mostly workmanlike songs stand out.
If the band is trying to channel the soulful melancholy of the Scottish folk sensibility into a post-classic rock, post-grunge world, then opener 'In Here Somewhere' suggests they may succeed. It's certainly the track which best incorporates their influences into an emotionally affecting whole.
This slice of postmodern rustic blues combines a chiming, hooky guitar figure and sludgy tempo with epic gauzy shoegazey atmospherics, gritty verses and impassioned lyrics. There's some nice mandolin, and a good use of melancholy and dynamics.
There are some cool country-rock guitar solos and some nice changes of pace elsewhere. But by the middle of the album it all starts to feel a bit one-note. On the likes of 'Parade', the tone is resigned, the mood is autumnal, and the poetic sensibility and melodic chops that make the better country-rock acts like The Jayhawks stand out, are less evident.
Bearded finds itself longing for a poppier tune, or some sign that the band didn't take everything so bleeding seriously. It's all a bit earnest, which can get wearying - even Leonard Cohen has jokes, damnit!
After a somewhat grey and saggy midsection, the album picks up tempo with the anthemic 'Slow Summer Deer'. Then (hurrah) the boys put the electric guitars down, and gather round the microphone. Tunes like 'Farmer With a Pulse' and 'Sex is For Losers' locate the band's often inaccessible funny-bone, and while not super-memorable, at least provide a refreshing change of tone.
However, despite several listens, few moments stick in the memory as the promise of the opening track goes largely unfulfilled. Maybe next time...